Friday August 16, 2019
Change

-27.27%
Price
$0.00
Explanation to Bollinger's Bands
Bollinger Bands was created by John Bollinger in the early 1980s, which purpose is to provide a relative definition of high and low. This defintion is used to identify buy and sell signals and have proven very well in doing so.
Bollinger Bands consist of a set of three curves drawn in relation to securities prices. The middle band is a measure of the intermediate-term trend, usually a simple moving average, that serves as the base for the upper and lower bands. The interval between the upper and lower bands and the middle band is determined by volatility, typically the standard deviation of the same data that were used for the average. Get-A-Graph uses Bollingers suggested 20 day average.
Middle Bollinger Band = 20-period simple moving average
Upper Bollinger Band = Middle Bollinger Band + 2 * 20-period standard deviation
Lower Bollinger Band = Middle Bollinger Band - 2 * 20-period standard deviation
BandWidth defines the current width of the band.
%b defines the current position within the band.
BandWidth = (Upper Bollinger Band - Lower Bollinger Band) / Middle Bollinger Band
%b = (Last - Lower Bollinger Band) / (Upper Bollinger Band - Lower Bollinger Band)

Live Samples: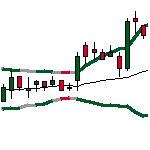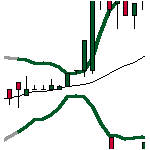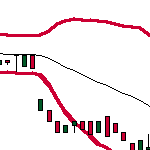 Bottlenecks in bandwidth indicates a upcoming change. Break up through the moving average line, or continuously movements above the moving average line indicates a break up, and vice versa downwards.
Source: http://www.bollingerbands.com
AOLS Forecast and Technical Stock Analysis
Sell candidate since 2019-07-26
Loss -38.46%
Aeolus Pharmaceuticals, Inc fell by -27.27% in the last day ( Friday, 16th Aug 2019 ) from $0.00 to $0.00 During the day the stock fluctuated 0.00% from a day low at $0.00 to a day high of $0.00. The price has been going up and down for this period, and there has been a -33.33% loss for the last 2 weeks. Volume fell in the last day along with the stock, which is actually a good sign as volume should follow the stock. In the last day the trading volume fell by -497 035 shares and in total 600 shares bought and sold for approximately $0.48.
Quick summary:
30 day high of the AOLS stock price was $0.00 and low was $0.00.
90 day high was $0.00 and low was $0.00.
52 week high for Aeolus Pharmaceuticals, Inc - $0.01 and low - $0.00.
Top Trending Stocks
Trend
Aeolus Pharmaceuticals, Inc has broken the very wide and falling short-term trend down. Firstly a stronger fallrate is indicated, but false breaks and "sell-off" may occur. However, a further fall is realistic and any reactions back to the breaking point ($0.00) are considered to be a "second chance" to get out. According to the fan-theory $-0.00 will represent the new bottom line of the next trend, but it is far too early to say this for certain.
Top Golden Star Stocks
Signals
There are few to none technical positive signals at the moment. Aeolus Pharmaceuticals, Inc holds sales signals from both short- and long-term moving averages. In addition, there is a general sales signal from the relation between the two signals where the long-term average is above the short-term average. On corrections up there will be some resistance from the lines at $0.00 and $0.00. A break-up above any of these levels will issue buy signals. A sales signal was issued from a pivot top point on Wednesday July 24, 2019, which indicates further falls until a new bottom pivot has been found. Volume fell along with the price during the last trading day which is technical positive. One should, however, note that this stock may have low liquidity in periods, which increases the general risk. The very low volume increases the risk and reduces the other technical signals issued.
Relative Strength Index (RSI)
RSImin/max Values: [ 25 - 75 ]
RSI14 is 50 and the stock is currently not being overbought or oversold
* Stockinvest.us uses dynamical calculated RSI max/min levels to determine when stock is oversold or overbought based on historical behaviour.
Support & Resistance
There is no support from accumulated volume below today's level and given the right condition the stock may perform very badly in the next couple of days.
Risk
This stock may move much during a day (volatility) and with periodic low trading volume this stock is considered to be "high risk". During the last day, the stock moved $0.00 between high and low, or 0.00%. For the last week the stock has had a daily average volatility of 0.00%.
Our recommended stop-loss: We hold a sell evaluation for this stock. No stop-loss set.
0.00 %
Average volatility
Overall risk:
Very Low Low Medium High Very High
Sell Candidate
Downgraded
Evaluation
Aeolus Pharmaceuticals, Inc holds several negative signals and is within a very wide and falling trend, so we believe it will still perform weakly in the next couple of days or weeks. We therefore hold a negative evaluation of this stock.
Golden Star Signal
This unique signal uses moving averages and adds special requirements that convert the very good Golden Cross into a Golden Star.

This signal is rare and, in most cases, gives substantial returns. From 8.000 stocks usually only a few will trigger a Golden Star Signal per day!
Get access to Golden Star list now!