NASDAQ:ALLT
Allot Communications Ltd. Stock Price (Quote)
$2.73
(
0%
)
Monday, 5th Jun 2023
Range
Low Price
High Price
Comment
30 days
$2.43
$2.86
Monday, 5th Jun 2023 ALLT stock ended at $2.73. During the day the stock fluctuated 3.37% from a day low at $2.67 to a day high of $2.76.
90 days
$2.43
$2.92
52 weeks
$2.43
$5.86
Historical Allot Communications Ltd. prices
| | | | | | |
| --- | --- | --- | --- | --- | --- |
| Date | Open | High | Low | Close | Volume |
| 2022-03-24 | $8.30 | $8.30 | $8.12 | $8.23 | 186 800 |
| 2022-03-23 | $8.24 | $8.44 | $8.00 | $8.20 | 182 000 |
| 2022-03-22 | $8.34 | $8.48 | $8.24 | $8.28 | 170 953 |
| 2022-03-21 | $7.82 | $8.52 | $7.82 | $8.36 | 424 899 |
| 2022-03-18 | $7.99 | $8.20 | $7.63 | $7.76 | 2 883 307 |
| 2022-03-17 | $7.81 | $7.99 | $7.60 | $7.98 | 673 500 |
| 2022-03-16 | $7.92 | $7.92 | $7.58 | $7.86 | 284 600 |
| 2022-03-15 | $7.68 | $7.86 | $7.67 | $7.86 | 187 200 |
| 2022-03-14 | $7.63 | $7.76 | $7.51 | $7.72 | 182 200 |
| 2022-03-11 | $7.73 | $7.86 | $7.51 | $7.59 | 229 800 |
| 2022-03-10 | $7.59 | $7.88 | $7.51 | $7.82 | 210 800 |
| 2022-03-09 | $7.45 | $7.79 | $7.45 | $7.77 | 149 900 |
| 2022-03-08 | $7.46 | $7.68 | $7.25 | $7.26 | 529 200 |
| 2022-03-07 | $7.63 | $7.79 | $7.40 | $7.45 | 324 800 |
| 2022-03-04 | $8.15 | $8.15 | $7.57 | $7.65 | 309 600 |
| 2022-03-03 | $7.99 | $8.27 | $7.90 | $8.22 | 320 800 |
| 2022-03-02 | $7.85 | $7.97 | $7.70 | $7.95 | 220 000 |
| 2022-03-01 | $8.21 | $8.22 | $7.72 | $7.83 | 221 500 |
| 2022-02-28 | $8.20 | $8.30 | $7.93 | $8.16 | 424 900 |
| 2022-02-25 | $7.84 | $8.27 | $7.69 | $8.23 | 612 000 |
| 2022-02-24 | $7.11 | $7.83 | $7.11 | $7.78 | 412 400 |
| 2022-02-23 | $7.93 | $7.99 | $7.60 | $7.62 | 380 100 |
| 2022-02-22 | $7.89 | $7.94 | $7.76 | $7.91 | 494 500 |
| 2022-02-18 | $7.72 | $7.98 | $7.72 | $7.95 | 331 000 |
| 2022-02-17 | $7.71 | $8.13 | $7.71 | $7.88 | 694 700 |
| 2022-02-16 | $8.15 | $8.39 | $8.05 | $8.08 | 387 100 |
| 2022-02-15 | $8.55 | $8.71 | $7.72 | $8.23 | 1 302 700 |
| 2022-02-14 | $10.18 | $10.27 | $9.47 | $9.76 | 564 700 |
| 2022-02-11 | $10.40 | $10.58 | $10.21 | $10.30 | 332 600 |
| 2022-02-10 | $10.00 | $10.68 | $9.99 | $10.40 | 526 500 |
| 2022-02-09 | $9.65 | $10.20 | $9.52 | $10.20 | 608 700 |
| 2022-02-08 | $8.95 | $9.49 | $8.88 | $9.34 | 1 092 600 |
| 2022-02-07 | $8.72 | $8.80 | $8.43 | $8.55 | 274 200 |
| 2022-02-04 | $8.57 | $8.80 | $8.56 | $8.76 | 211 300 |
| 2022-02-03 | $8.90 | $8.91 | $8.47 | $8.58 | 403 900 |
| 2022-02-02 | $9.74 | $9.75 | $9.04 | $9.06 | 351 900 |
| 2022-02-01 | $9.54 | $9.97 | $9.46 | $9.66 | 316 500 |
| 2022-01-31 | $8.82 | $9.67 | $8.78 | $9.60 | 364 900 |
| 2022-01-28 | $8.68 | $8.98 | $8.47 | $8.89 | 251 700 |
| 2022-01-27 | $8.96 | $9.11 | $8.66 | $8.72 | 172 200 |
| 2022-01-26 | $9.10 | $9.33 | $8.76 | $8.83 | 172 800 |
| 2022-01-25 | $9.07 | $9.13 | $8.78 | $8.98 | 292 200 |
| 2022-01-24 | $9.45 | $9.47 | $8.66 | $9.39 | 423 900 |
| 2022-01-21 | $10.10 | $10.39 | $9.80 | $9.86 | 311 100 |
| 2022-01-20 | $10.26 | $10.65 | $10.17 | $10.22 | 317 900 |
| 2022-01-19 | $10.40 | $10.48 | $10.06 | $10.13 | 184 000 |
| 2022-01-18 | $11.00 | $11.07 | $10.26 | $10.30 | 206 000 |
| 2022-01-14 | $11.77 | $11.98 | $11.17 | $11.34 | 253 100 |
| 2022-01-13 | $12.08 | $12.15 | $11.82 | $11.84 | 102 200 |
| 2022-01-12 | $12.38 | $12.45 | $12.03 | $12.08 | 170 400 |
About Allot Communications Ltd.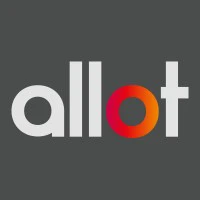 Allot Ltd. provides network intelligence and security solutions to protect and personalize the digital experience in Europe, Asia, Oceania, the Middle East, Africa, and the Americas. The company offers Allot Secure Management platform that includes Allot NetworkSecure, Allot HomeSecure, Allot DNSecure, EndPoint Secure, Allot BusinessSecure, Allot IoTSecure, and Allot Secure Cloud. It also provides Allot DDoS Secure/5G Protect, a solution that off... ALLT Profile
Top Fintech Company
featured in The Global Fintech Index 2020 as the top Fintech company of the country.
Full report by