Coca-Cola Bottling Co. Consolidated Stock Insider Trading
| Date | Action | Amount | Person | Type |
| --- | --- | --- | --- | --- |
| May 09, 2023 | Buy | 0 | Tollison Nathaniel Brent | |
| May 09, 2023 | Buy | 0 | Coventry Elaine Moyese Bowers | |
| Jan 03, 2023 | Buy | 39 062 | Harrison J Frank Iii | Class B Common Stock |
| Mar 17, 2023 | Sell | 445 | Harrison J Frank Iii | Class B Common Stock |
| Nov 01, 2021 | Sell | 32 190 | Harrison J Frank Iii | Class B Common Stock |
| Nov 01, 2021 | Buy | 32 327 | Harrison J Frank Iii | Class B Common Stock |
| Jan 11, 2022 | Sell | 3 244 | Harrison J Frank Iii | Class B Common Stock |
| Jan 11, 2022 | Buy | 3 145 | Harrison J Frank Iii | Class B Common Stock |
| Jan 01, 2022 | Buy | 0 | Motherwell Christine Ann | |
| Oct 20, 2021 | Buy | 390 620 | Harrison J Frank Iii | Class B Common Stock |
| Oct 22, 2021 | Sell | 194 333 | Harrison J Frank Iii | Class B Common Stock |
| Oct 20, 2021 | Sell | 390 620 | Harrison J Frank Iii | Class B Common Stock |
| Aug 10, 2020 | Buy | 0 | Blickley Matthew Joseph | |
| May 12, 2020 | Buy | 0 | Etheridge Donell W | |
| May 12, 2020 | Buy | 0 | Turney Jeffrey L | |
| May 10, 2019 | Sell | 500 | Murrey John W Iii | Common Stock |
| May 10, 2019 | Sell | 500 | Murrey John W Iii | Common Stock |
| Mar 05, 2019 | Buy | 34 700 | Harrison J Frank Iii | Class B Common Stock |
| Mar 05, 2019 | Sell | 15 476 | Harrison J Frank Iii | Class B Common Stock |
| Nov 30, 2018 | Buy | 0 | Anthony Fredrick Scott | |
| Mar 06, 2018 | Buy | 36 800 | Harrison J Frank Iii | Class B Common Stock |
| Mar 06, 2018 | Sell | 16 504 | Harrison J Frank Iii | Class B Common Stock |
| Aug 23, 2017 | Buy | 0 | Williams Richard Tyrone | |
| May 09, 2017 | Buy | 0 | Mann Jennifer K | |
| May 09, 2017 | Buy | 0 | Matte James L | |
| Mar 07, 2017 | Buy | 40 000 | Harrison J Frank Iii | Class B Common Stock |
| Mar 07, 2017 | Sell | 18 980 | Harrison J Frank Iii | Class B Common Stock |
| Feb 28, 2017 | Buy | 0 | Fisher E Beauregarde Iii | |
| May 10, 2016 | Buy | 78 595 | Wells Sue Anne H. | Class B Common Stock |
| Apr 01, 2016 | Buy | 0 | Deal Clifford M Iii | |
| Mar 08, 2016 | Buy | 40 000 | Harrison J Frank Iii | Class B Common Stock |
| Mar 08, 2016 | Sell | 19 080 | Harrison J Frank Iii | Class B Common Stock |
| Jan 01, 2016 | Buy | 0 | Kasbekar Umesh M | |
| Dec 28, 2015 | Buy | 0 | Kuo Kimberly Ann | |
| Jan 01, 2016 | Buy | 0 | Helvey James Relerford Iii | |
| Mar 03, 2015 | Buy | 40 000 | Harrison J Frank Iii | Class B Common Stock |
| Mar 03, 2015 | Sell | 19 080 | Harrison J Frank Iii | Class B Common Stock |
| Mar 04, 2014 | Buy | 40 000 | Harrison J Frank Iii | Class B Common Stock |
| Mar 04, 2014 | Sell | 19 100 | Harrison J Frank Iii | Class B Common Stock |
| Dec 29, 2013 | Buy | 0 | Elmore William B | |
| Mar 05, 2013 | Buy | 40 000 | Harrison J Frank Iii | Class B Common Stock |
| Mar 05, 2013 | Sell | 19 880 | Harrison J Frank Iii | Class B Common Stock |
| Jan 02, 2013 | Buy | 0 | Katz David Michael | |
| Mar 06, 2012 | Buy | 40 000 | Harrison J Frank Iii | Class B Common Stock |
| Mar 06, 2012 | Sell | 17 680 | Harrison J Frank Iii | Class B Common Stock |
| May 16, 2011 | Buy | 0 | Hopkins David L. | |
| May 10, 2011 | Buy | 78 596 | Everett Morgan Harrison | Class B Common Stock |
| Mar 08, 2011 | Buy | 40 000 | Harrison J Frank Iii | Class B Common Stock |
| Mar 08, 2011 | Sell | 17 680 | Harrison J Frank Iii | Class B Common Stock |
| Jan 01, 2011 | Sell | 0 | Jones William H. | Common Stock |
| May 11, 2010 | Buy | 0 | Strong Michael A | |
| Mar 09, 2010 | Buy | 40 000 | Harrison J Frank Iii | Class B Common Stock |
| Mar 09, 2010 | Sell | 17 680 | Harrison J Frank Iii | Class B Common Stock |
| Mar 09, 2010 | Buy | 0 | Cummings Alexander B Jr | |
| Feb 19, 2009 | Buy | 497 670 | Coca Cola Co | Common Stock, $1.00 par value |
| Feb 19, 2009 | Sell | 497 670 | Coca Cola Co | Class B Common Stock, $1.00 par value |
| May 30, 2008 | Buy | 0 | Chambless Robert G | |
| Feb 27, 2008 | Buy | 0 | Morgan James H | |
| Aug 20, 2007 | Sell | 7 | Coca Cola Enterprises Inc | Common Stock |
| Aug 20, 2007 | Sell | 100 | Coca Cola Enterprises Inc | Common Stock |
| Aug 20, 2007 | Sell | 2 | Coca Cola Enterprises Inc | Common Stock |
| Aug 20, 2007 | Sell | 40 | Coca Cola Enterprises Inc | Common Stock |
| Aug 20, 2007 | Sell | 60 | Coca Cola Enterprises Inc | Common Stock |
| Aug 20, 2007 | Sell | 100 | Coca Cola Enterprises Inc | Common Stock |
| Aug 20, 2007 | Sell | 100 | Coca Cola Enterprises Inc | Common Stock |
| Aug 20, 2007 | Sell | 60 | Coca Cola Enterprises Inc | Common Stock |
| Aug 20, 2007 | Sell | 100 | Coca Cola Enterprises Inc | Common Stock |
| Aug 20, 2007 | Sell | 189 | Coca Cola Enterprises Inc | Common Stock |
| Aug 20, 2007 | Sell | 100 | Coca Cola Enterprises Inc | Common Stock |
| Aug 20, 2007 | Sell | 40 | Coca Cola Enterprises Inc | Common Stock |
| Aug 20, 2007 | Sell | 2 | Coca Cola Enterprises Inc | Common Stock |
| Aug 20, 2007 | Sell | 100 | Coca Cola Enterprises Inc | Common Stock |
| Aug 14, 2007 | Sell | 51 | Coca Cola Enterprises Inc | Common Stock |
| Aug 14, 2007 | Sell | 28 | Coca Cola Enterprises Inc | Common Stock |
| Aug 14, 2007 | Sell | 100 | Coca Cola Enterprises Inc | Common Stock |
| Aug 14, 2007 | Sell | 186 | Coca Cola Enterprises Inc | Common Stock |
| Aug 14, 2007 | Sell | 100 | Coca Cola Enterprises Inc | Common Stock |
| Aug 14, 2007 | Sell | 100 | Coca Cola Enterprises Inc | Common Stock |
| Aug 14, 2007 | Sell | 100 | Coca Cola Enterprises Inc | Common Stock |
| Aug 14, 2007 | Sell | 96 | Coca Cola Enterprises Inc | Common Stock |
| Aug 14, 2007 | Sell | 4 | Coca Cola Enterprises Inc | Common Stock |
| Aug 14, 2007 | Sell | 12 | Coca Cola Enterprises Inc | Common Stock |
| Aug 14, 2007 | Sell | 88 | Coca Cola Enterprises Inc | Common Stock |
| Aug 14, 2007 | Sell | 1 | Coca Cola Enterprises Inc | Common Stock |
| Aug 14, 2007 | Sell | 13 | Coca Cola Enterprises Inc | Common Stock |
| Aug 14, 2007 | Sell | 9 | Coca Cola Enterprises Inc | Common Stock |
| Aug 14, 2007 | Sell | 91 | Coca Cola Enterprises Inc | Common Stock |
| Aug 14, 2007 | Sell | 8 | Coca Cola Enterprises Inc | Common Stock |
| Aug 14, 2007 | Sell | 8 | Coca Cola Enterprises Inc | Common Stock |
| Aug 14, 2007 | Sell | 5 | Coca Cola Enterprises Inc | Common Stock |
| Aug 10, 2007 | Sell | 900 | Coca Cola Enterprises Inc | Common Stock |
| Aug 10, 2007 | Sell | 100 | Coca Cola Enterprises Inc | Common Stock |
| Aug 13, 2007 | Sell | 200 | Coca Cola Enterprises Inc | Common Stock |
| Aug 13, 2007 | Sell | 100 | Coca Cola Enterprises Inc | Common Stock |
| Aug 13, 2007 | Sell | 100 | Coca Cola Enterprises Inc | Common Stock |
| Aug 13, 2007 | Sell | 124 | Coca Cola Enterprises Inc | Common Stock |
| Aug 13, 2007 | Sell | 66 | Coca Cola Enterprises Inc | Common Stock |
| Aug 13, 2007 | Sell | 210 | Coca Cola Enterprises Inc | Common Stock |
| Aug 13, 2007 | Sell | 200 | Coca Cola Enterprises Inc | Common Stock |
| Aug 15, 2007 | Sell | 200 | Coca Cola Enterprises Inc | Common Stock |
INSIDER POWER
11.692
Last 100 transactions
Buy: 1 354 325 | Sell: 1 304 842 (Shares)
Based on the 100 latest insides trades, we have calculated the insider power to be positive at a ratio of 11.692.
In total, the insiders bought 13 543 245 928 and sold 1 304 841 897 COKE shares in the last 100 trades.
About Coca-Cola Bottling Co. Consolidated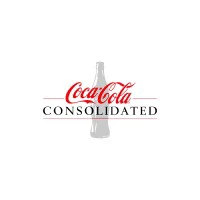 Coca-Cola Consolidated, Inc., together with its subsidiaries, manufactures, markets, and distributes nonalcoholic beverages primarily products of The Coca-Cola Company in the United States. The company offers sparkling beverages, such as carbonated beverages; and still beverages, including energy products, as well as noncarbonated beverages comprising bottled water, ready to drink coffee and tea, enhanced water, juices, and sports drinks. It also... COKE Profile
Top Fintech Company
featured in The Global Fintech Index 2020 as the top Fintech company of the country.
Full report by