Tempest Therapeutics in Volatile Territory: Hold Recommendation Amidst High Risk
StockInvest.us, 1 month ago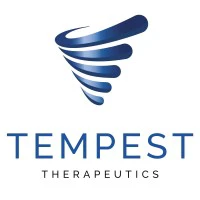 Overview

Tempest Therapeutics, Inc. (TPST), listed on NASDAQ, is under analysis. The last close price as of October 20, 2023 was $4.66, decreasing by $1.41 (-23.23%) from the previous trading session. This occurred with a substantial increase in trading volume of 11.44 million shares, significantly higher than the average volume of 8.24 million shares.

Technical Analysis

TPST has recently experienced significant volatility. The stock has ranged from a year low of $0.17 to a high of $9.77. The Average True Range (ATR) is at a relatively high level of 28.93, indicating a considerable degree of price volatility.

Looking at moving averages, the stock is trading above both its 50-day moving average of $1.28 and its 200-day moving average of $1.58 indicating a potentially bullish trend. With an RSI14 at 63, it is nearing the overbought level, suggesting a potential correction might be expected. Additionally, the MACD indicator is positive at 0.88, suggesting that bullish momentum is present in this stock.

Nevertheless, TPST has a significant support point at $3.98, while no particular resistance level is provided. The provided stop-loss point is at $4.39, only slightly below the last closing price. However, TPST's negative EPS of $-3.89 and PE of -1.2 highlight its current challenges.

Fundamental Analysis
Tempest Therapeutics possesses a relatively small market capitalization of $67.86 million. It also has 14.56 million shares outstanding. There is a consensus "Buy" recommendation from analysts, despite no "strong buy" recommendations and the absence of hold, sell, or strong sell recommendations.

Moreover, the discount cash flow (DCF) estimate of TPST is at $7.36, indicating the stock could be undervalued given the last closing price was $4.66. However, inline with the technical analysis, the broad DCF estimate must be considered alongside the firm's negative EPS and PE ratio.

It is also important to note that TPST's stock surge is apparently unaccompanied by any fundamental company news that would typically lead to such dramatic gains.

Outlook and Evaluation

Factoring in the technical and fundamental data available, the outlook for TPST's stock price entails a higher risk due to its volatile and unpredictable nature. Although it holds a consensus "Buy" recommendation from analysts and its DCF value exceeds its current price, the strong caution should be executed due to its significant price variability, negative EPS and PE ratio.

For the next trading day, October 23, 2023, the share may face further selling pressure due to the large decline during its last session. However, considering the high volatility (ATR 28.93), the price might rebound towards the DCF estimate of $7.36 over the upcoming week, provided no negative market news.

Recommendation

The recommendation for TPST is a "Hold." That is mainly due to its current high volatility. It would be advisable for potential investors to wait for clearer signs of stability before entering or increasing positions. Existing investors should be prepared for more price fluctuations and should carefully consider their risk tolerance. The upcoming earnings announcement on November 6, 2023, will be a crucial event to show whether the fundamentals validate the current technical indicators.
Check full Tempest Therapeutics Inc. forecast and analysis here.