Double Tops - 3 Months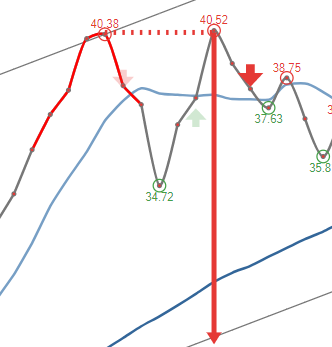 Double tops are well know technical chart patterns. However, there is a slight disagreement about how and where it should be drawn. The length of the red arrow represents the potential fall from the date issued in the signal. Nonetheless, there is a possibility it may perform better or may not perform at all. We recommend you to be alert at all times. A buy or a sell candidate is an automated opinion about the ticker at the end of the last trading day. The score is based on technical analysis and our algorithms. It does not constitute as an offer to buy or sell the securities.
UNLOCK
#1
2022-09-28 3.38
$23.80 1.67%
UNLOCK
#2
2022-09-19 -0.14
$9.95 0.66%
UNLOCK
#3
2022-09-12 1.94
$10.18 2.83%
UNLOCK
#4
2022-09-12 2.54
$10.40 -0.19%
UNLOCK
#5
2022-08-25 -0.41
$26.12 0.04%
#6
2022-07-27 -0.84
$39.54 0.05%
About Lists
These lists show you the latest scores from our system. You can now easily scan these "Buy" or "Sell" candidates from moving averages and other indicators that we present.
For a fact, many traders are trading on technical signals. This type of trading, where you are looking for a short-term profit, is often referred to as "swing trading."
One special tip is to keep an eye on the volume (follow the momentum). A high score followed by an increase in volume is usually a good trade.
We will continue to add more lists, and you may always send us your feedback!

Stock Podcast
Top Fintech Company

featured in The Global Fintech Index 2020 as the top Fintech company of the country.
Full report by