NASDAQ:ALOT
AstroNova, Inc. Stock Price (Quote)
$15.02
(
-0.661%
)
Friday, 26th May 2023
Range
Low Price
High Price
Comment
30 days
$12.50
$15.70
Friday, 26th May 2023 ALOT stock ended at $15.02. This is 0.661% less than the trading day before Thursday, 25th May 2023. During the day the stock fluctuated 8.67% from a day low at $14.07 to a day high of $15.29.
90 days
$11.63
$15.70
52 weeks
$10.97
$15.70
Historical AstroNova, Inc. prices
| | | | | | |
| --- | --- | --- | --- | --- | --- |
| Date | Open | High | Low | Close | Volume |
| 2023-05-26 | $14.55 | $15.29 | $14.07 | $15.02 | 22 501 |
| 2023-05-25 | $15.52 | $15.52 | $14.82 | $15.12 | 27 814 |
| 2023-05-24 | $15.34 | $15.53 | $14.95 | $15.45 | 8 600 |
| 2023-05-23 | $15.26 | $15.58 | $15.03 | $15.22 | 16 741 |
| 2023-05-22 | $15.10 | $15.70 | $15.10 | $15.32 | 6 336 |
| 2023-05-19 | $15.09 | $15.22 | $15.07 | $15.12 | 2 185 |
| 2023-05-18 | $14.85 | $15.08 | $14.73 | $15.08 | 3 956 |
| 2023-05-17 | $14.94 | $15.26 | $14.72 | $15.26 | 1 777 |
| 2023-05-16 | $15.08 | $15.15 | $14.89 | $15.15 | 4 713 |
| 2023-05-15 | $14.85 | $15.00 | $14.76 | $14.96 | 3 066 |
| 2023-05-12 | $15.34 | $15.34 | $14.80 | $14.84 | 405 |
| 2023-05-11 | $15.40 | $15.40 | $14.54 | $15.00 | 11 934 |
| 2023-05-10 | $15.20 | $15.40 | $15.10 | $15.40 | 9 131 |
| 2023-05-09 | $14.75 | $15.34 | $14.75 | $15.18 | 8 775 |
| 2023-05-08 | $14.65 | $14.88 | $14.42 | $14.72 | 5 135 |
| 2023-05-05 | $14.31 | $14.95 | $14.09 | $14.70 | 14 568 |
| 2023-05-04 | $14.40 | $14.48 | $14.21 | $14.48 | 5 017 |
| 2023-05-03 | $14.11 | $14.66 | $14.11 | $14.22 | 5 814 |
| 2023-05-02 | $14.18 | $14.39 | $13.78 | $14.10 | 10 498 |
| 2023-05-01 | $14.79 | $14.79 | $14.09 | $14.23 | 8 584 |
| 2023-04-28 | $14.56 | $14.71 | $13.98 | $14.71 | 12 382 |
| 2023-04-27 | $14.44 | $14.44 | $13.86 | $14.40 | 5 028 |
| 2023-04-26 | $13.70 | $14.37 | $12.50 | $14.15 | 12 520 |
| 2023-04-25 | $14.49 | $14.49 | $14.06 | $14.08 | 10 337 |
| 2023-04-24 | $14.61 | $14.78 | $14.07 | $14.10 | 16 699 |
| 2023-04-21 | $14.81 | $14.88 | $14.11 | $14.88 | 9 444 |
| 2023-04-20 | $14.90 | $15.20 | $14.65 | $15.11 | 12 916 |
| 2023-04-19 | $14.15 | $14.96 | $14.15 | $14.90 | 23 634 |
| 2023-04-18 | $14.50 | $14.50 | $13.86 | $14.34 | 7 765 |
| 2023-04-17 | $14.76 | $14.86 | $14.54 | $14.58 | 5 292 |
| 2023-04-14 | $14.77 | $14.99 | $14.66 | $14.92 | 4 206 |
| 2023-04-13 | $14.83 | $15.56 | $14.77 | $15.00 | 16 266 |
| 2023-04-12 | $14.60 | $14.74 | $14.09 | $14.61 | 9 927 |
| 2023-04-11 | $14.50 | $15.15 | $14.37 | $14.63 | 6 659 |
| 2023-04-10 | $13.78 | $14.80 | $13.70 | $14.57 | 86 159 |
| 2023-04-06 | $13.86 | $14.00 | $13.86 | $14.00 | 19 343 |
| 2023-04-05 | $13.80 | $14.05 | $13.75 | $14.05 | 6 309 |
| 2023-04-04 | $14.03 | $14.50 | $13.78 | $14.06 | 9 958 |
| 2023-04-03 | $13.95 | $14.48 | $13.73 | $14.00 | 12 086 |
| 2023-03-31 | $14.21 | $14.59 | $13.75 | $14.01 | 25 371 |
| 2023-03-30 | $13.57 | $14.01 | $13.30 | $13.91 | 10 171 |
| 2023-03-29 | $13.28 | $13.64 | $13.07 | $13.51 | 13 794 |
| 2023-03-28 | $12.06 | $13.23 | $12.06 | $13.18 | 47 747 |
| 2023-03-27 | $11.98 | $12.16 | $11.63 | $11.94 | 9 308 |
| 2023-03-24 | $12.20 | $12.43 | $11.90 | $11.90 | 8 697 |
| 2023-03-23 | $13.65 | $13.65 | $12.45 | $12.45 | 38 282 |
| 2023-03-22 | $13.10 | $13.10 | $12.31 | $12.31 | 2 535 |
| 2023-03-21 | $12.48 | $12.80 | $11.99 | $12.48 | 11 017 |
| 2023-03-20 | $13.50 | $13.74 | $11.98 | $12.36 | 31 006 |
| 2023-03-17 | $13.77 | $13.87 | $13.40 | $13.75 | 11 847 |
About AstroNova, Inc.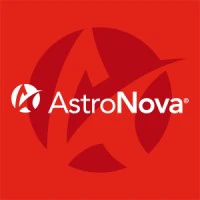 AstroNova, Inc. designs, develops, manufactures, and distributes specialty printers, and data acquisition and analysis systems in the United States, Europe, Asia, Canada, Central and South America, and internationally. The company operates in two segments, Product Identification (PI) and Test & Measurement (T&M). The PI segment offers tabletop and production-ready digital color label printers, and OEM printing systems under the QuickLabel brand; ... ALOT Profile
Top Fintech Company
featured in The Global Fintech Index 2020 as the top Fintech company of the country.
Full report by