NASDAQ:BLMN
Bloomin' Brands, Inc. Stock Price (Quote)
$25.47
(
5.20%
)
Friday, 2nd Jun 2023
Range
Low Price
High Price
Comment
30 days
$22.41
$26.50
Friday, 2nd Jun 2023 BLMN stock ended at $25.47. This is 5.2% more than the trading day before Thursday, 1st Jun 2023. During the day the stock fluctuated 4.46% from a day low at $24.45 to a day high of $25.54.
90 days
$22.41
$26.96
52 weeks
$15.89
$28.46
Historical Bloomin' Brands, Inc. prices
| | | | | | |
| --- | --- | --- | --- | --- | --- |
| Date | Open | High | Low | Close | Volume |
| 2023-06-02 | $24.45 | $25.54 | $24.45 | $25.47 | 1 162 112 |
| 2023-06-01 | $24.16 | $24.41 | $23.89 | $24.21 | 1 531 441 |
| 2023-05-31 | $24.09 | $24.11 | $23.34 | $23.89 | 1 833 701 |
| 2023-05-30 | $24.86 | $25.08 | $24.00 | $24.14 | 1 553 796 |
| 2023-05-26 | $24.81 | $25.12 | $24.71 | $24.84 | 1 449 289 |
| 2023-05-25 | $25.58 | $25.61 | $24.79 | $24.88 | 1 412 528 |
| 2023-05-24 | $25.26 | $26.12 | $25.40 | $25.58 | 1 850 466 |
| 2023-05-23 | $25.84 | $26.12 | $25.57 | $25.65 | 1 370 661 |
| 2023-05-22 | $26.24 | $26.33 | $25.66 | $25.83 | 1 884 803 |
| 2023-05-19 | $26.39 | $26.50 | $25.94 | $26.28 | 1 783 881 |
| 2023-05-18 | $25.17 | $26.28 | $25.10 | $26.26 | 2 014 632 |
| 2023-05-17 | $23.88 | $25.23 | $23.84 | $25.15 | 2 677 046 |
| 2023-05-16 | $23.40 | $23.69 | $23.09 | $23.57 | 1 466 797 |
| 2023-05-15 | $23.33 | $23.54 | $22.92 | $23.49 | 1 722 581 |
| 2023-05-12 | $22.68 | $23.28 | $22.57 | $23.25 | 1 761 081 |
| 2023-05-11 | $22.91 | $23.03 | $22.41 | $22.67 | 1 679 882 |
| 2023-05-10 | $23.44 | $23.44 | $22.61 | $22.98 | 1 658 681 |
| 2023-05-09 | $23.05 | $23.69 | $23.03 | $23.17 | 1 658 374 |
| 2023-05-08 | $24.12 | $24.24 | $23.37 | $23.38 | 2 072 539 |
| 2023-05-05 | $24.64 | $24.72 | $23.87 | $24.12 | 1 564 817 |
| 2023-05-04 | $24.56 | $25.00 | $24.03 | $24.39 | 1 451 068 |
| 2023-05-03 | $24.84 | $25.10 | $24.47 | $24.60 | 1 589 601 |
| 2023-05-02 | $24.50 | $24.92 | $23.96 | $24.85 | 3 227 324 |
| 2023-05-01 | $24.62 | $24.79 | $24.13 | $24.67 | 2 257 766 |
| 2023-04-28 | $24.60 | $25.12 | $23.78 | $24.77 | 2 657 304 |
| 2023-04-27 | $23.44 | $23.62 | $23.04 | $23.57 | 1 564 930 |
| 2023-04-26 | $23.22 | $23.60 | $23.15 | $23.19 | 1 313 345 |
| 2023-04-25 | $23.68 | $23.73 | $22.91 | $23.20 | 1 319 337 |
| 2023-04-24 | $24.19 | $24.23 | $23.40 | $23.85 | 1 591 081 |
| 2023-04-21 | $24.12 | $24.45 | $24.03 | $24.24 | 1 355 943 |
| 2023-04-20 | $24.28 | $24.44 | $23.94 | $24.16 | 1 177 197 |
| 2023-04-19 | $24.61 | $24.71 | $24.29 | $24.39 | 1 030 670 |
| 2023-04-18 | $24.60 | $25.22 | $24.58 | $24.76 | 1 442 011 |
| 2023-04-17 | $24.75 | $24.87 | $24.24 | $24.43 | 1 264 349 |
| 2023-04-14 | $24.86 | $25.32 | $24.41 | $24.63 | 1 280 300 |
| 2023-04-13 | $25.03 | $25.13 | $24.72 | $24.90 | 1 066 615 |
| 2023-04-12 | $25.56 | $25.62 | $24.82 | $24.86 | 1 367 244 |
| 2023-04-11 | $25.02 | $25.62 | $24.91 | $25.40 | 1 570 441 |
| 2023-04-10 | $24.62 | $25.49 | $24.62 | $24.98 | 1 483 392 |
| 2023-04-06 | $24.95 | $25.02 | $24.41 | $24.72 | 863 970 |
| 2023-04-05 | $24.90 | $24.95 | $24.30 | $24.90 | 1 734 989 |
| 2023-04-04 | $25.29 | $25.74 | $24.90 | $25.12 | 1 216 151 |
| 2023-04-03 | $25.60 | $25.79 | $25.17 | $25.26 | 1 262 352 |
| 2023-03-31 | $25.74 | $25.98 | $25.53 | $25.65 | 1 369 779 |
| 2023-03-30 | $25.35 | $25.65 | $25.33 | $25.53 | 1 264 334 |
| 2023-03-29 | $25.15 | $25.29 | $24.87 | $25.28 | 1 044 563 |
| 2023-03-28 | $24.96 | $25.29 | $24.70 | $24.84 | 992 731 |
| 2023-03-27 | $25.31 | $25.35 | $24.99 | $25.08 | 1 210 316 |
| 2023-03-24 | $25.13 | $25.24 | $24.67 | $24.94 | 1 021 587 |
| 2023-03-23 | $25.94 | $26.05 | $24.73 | $25.29 | 1 553 642 |
About Bloomin' Brands, Inc.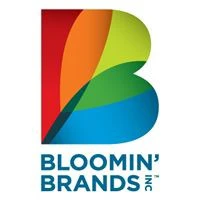 Bloomin' Brands, Inc., through its subsidiaries, owns and operates casual, upscale casual, and fine dining restaurants in the United States and internationally. The company operates through two segments, U.S. and International. Its restaurant portfolio has four concepts, including Outback Steakhouse, a casual steakhouse restaurant; Carrabba's Italian Grill, a casual Italian restaurant; Bonefish Grill; and Fleming's Prime Steakhouse & Wine Bar, a ... BLMN Profile
Top Fintech Company
featured in The Global Fintech Index 2020 as the top Fintech company of the country.
Full report by