NASDAQ:CSTE
CaesarStone Sdot-Yam Ltd. Stock Price (Quote)
$4.19
(
-0.238%
)
Friday, 24th Mar 2023
Range
Low Price
High Price
Comment
30 days
$4.15
$6.04
Friday, 24th Mar 2023 CSTE stock ended at $4.19. This is 0.238% less than the trading day before Thursday, 23rd Mar 2023. During the day the stock fluctuated 4.58% from a day low at $4.15 to a day high of $4.34.
90 days
$4.15
$6.55
52 weeks
$4.15
$11.10
Historical CaesarStone Sdot-Yam Ltd. prices
| | | | | | |
| --- | --- | --- | --- | --- | --- |
| Date | Open | High | Low | Close | Volume |
| 2023-03-24 | $4.20 | $4.34 | $4.15 | $4.19 | 150 948 |
| 2023-03-23 | $4.32 | $4.33 | $4.17 | $4.20 | 48 652 |
| 2023-03-22 | $4.33 | $4.54 | $4.26 | $4.30 | 67 817 |
| 2023-03-21 | $4.29 | $4.53 | $4.29 | $4.35 | 72 070 |
| 2023-03-20 | $4.26 | $4.36 | $4.16 | $4.25 | 91 560 |
| 2023-03-17 | $4.37 | $4.37 | $4.20 | $4.22 | 174 842 |
| 2023-03-16 | $4.38 | $4.70 | $4.33 | $4.37 | 140 212 |
| 2023-03-15 | $4.58 | $4.64 | $4.36 | $4.42 | 156 940 |
| 2023-03-14 | $4.79 | $4.79 | $4.59 | $4.75 | 153 871 |
| 2023-03-13 | $4.96 | $5.01 | $4.71 | $4.73 | 762 544 |
| 2023-03-10 | $4.95 | $5.02 | $4.88 | $4.96 | 246 207 |
| 2023-03-09 | $4.70 | $4.97 | $4.67 | $4.95 | 230 395 |
| 2023-03-08 | $4.66 | $4.69 | $4.52 | $4.68 | 148 330 |
| 2023-03-07 | $4.82 | $4.88 | $4.60 | $4.66 | 108 432 |
| 2023-03-06 | $5.10 | $5.10 | $4.61 | $4.82 | 247 087 |
| 2023-03-03 | $4.89 | $5.13 | $4.83 | $5.02 | 128 614 |
| 2023-03-02 | $4.75 | $4.85 | $4.64 | $4.82 | 124 898 |
| 2023-03-01 | $5.54 | $5.56 | $4.61 | $4.74 | 478 443 |
| 2023-02-28 | $5.97 | $5.98 | $5.82 | $5.82 | 51 408 |
| 2023-02-27 | $5.96 | $6.04 | $5.91 | $5.95 | 26 177 |
| 2023-02-24 | $5.90 | $5.99 | $5.80 | $5.94 | 67 349 |
| 2023-02-23 | $5.99 | $6.04 | $5.87 | $5.97 | 23 933 |
| 2023-02-22 | $5.93 | $5.99 | $5.80 | $5.96 | 67 230 |
| 2023-02-21 | $6.02 | $6.10 | $5.89 | $5.89 | 60 506 |
| 2023-02-17 | $6.18 | $6.18 | $6.03 | $6.07 | 58 372 |
| 2023-02-16 | $6.11 | $6.18 | $6.00 | $6.11 | 31 062 |
| 2023-02-15 | $6.14 | $6.17 | $5.96 | $6.15 | 183 689 |
| 2023-02-14 | $6.07 | $6.19 | $5.99 | $6.15 | 32 311 |
| 2023-02-13 | $6.01 | $6.17 | $5.98 | $6.13 | 76 642 |
| 2023-02-10 | $6.11 | $6.18 | $5.97 | $6.05 | 121 992 |
| 2023-02-09 | $6.26 | $6.35 | $6.12 | $6.14 | 61 278 |
| 2023-02-08 | $6.29 | $6.37 | $6.18 | $6.23 | 113 654 |
| 2023-02-07 | $6.30 | $6.36 | $6.18 | $6.30 | 72 347 |
| 2023-02-06 | $6.47 | $6.47 | $6.32 | $6.34 | 43 713 |
| 2023-02-03 | $6.35 | $6.54 | $6.30 | $6.48 | 84 089 |
| 2023-02-02 | $6.26 | $6.55 | $6.26 | $6.40 | 198 638 |
| 2023-02-01 | $6.25 | $6.34 | $6.16 | $6.26 | 76 175 |
| 2023-01-31 | $6.01 | $6.28 | $6.01 | $6.24 | 86 618 |
| 2023-01-30 | $6.00 | $6.03 | $5.96 | $5.96 | 51 669 |
| 2023-01-27 | $6.03 | $6.16 | $5.97 | $6.04 | 51 422 |
| 2023-01-26 | $6.09 | $6.13 | $5.91 | $6.00 | 59 096 |
| 2023-01-25 | $5.98 | $6.09 | $5.90 | $6.05 | 27 827 |
| 2023-01-24 | $6.23 | $6.29 | $6.01 | $6.05 | 36 037 |
| 2023-01-23 | $6.07 | $6.30 | $6.02 | $6.23 | 90 792 |
| 2023-01-20 | $5.94 | $6.08 | $5.80 | $6.05 | 89 047 |
| 2023-01-19 | $6.07 | $6.07 | $5.83 | $5.91 | 156 000 |
| 2023-01-18 | $6.38 | $6.39 | $6.12 | $6.17 | 43 308 |
| 2023-01-17 | $6.49 | $6.50 | $6.24 | $6.34 | 60 700 |
| 2023-01-13 | $6.50 | $6.55 | $6.45 | $6.49 | 49 743 |
| 2023-01-12 | $6.41 | $6.53 | $6.36 | $6.50 | 62 200 |
About CaesarStone Sdot-Yam Ltd.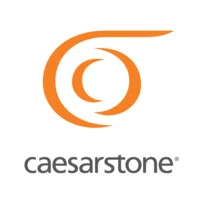 Caesarstone Ltd., together with its subsidiaries, develops, manufactures, and markets engineered quartz and other surfaces under the Caesarstone brand in the United States, Australia, Canada, Latin America, Asia, Israel, Europe, the Middle East, and Africa. The company's engineered quartz slabs are primarily used as indoor and outdoor kitchen countertops in the renovation and remodeling construction end markets. Its products are also used in othe... CSTE Profile
Top Fintech Company
featured in The Global Fintech Index 2020 as the top Fintech company of the country.
Full report by