Interactive Brokers Group Stock Price (Quote) NASDAQ:IBKR
$63.91
(
-0.70%
)
Friday, 30th Sep 2022
Range
Low Price
High Price
Comment
30 days
$59.56
$70.76
Friday, 30th Sep 2022 IBKR stock ended at $63.91. This is 0.7% less than the trading day before Thursday, 29th Sep 2022. During the day the stock fluctuated 2.61% from a day low at $63.68 to a day high of $65.34.
90 days
$52.43
$70.76
52 weeks
$52.18
$82.83
Historical Interactive Brokers Group prices
| | | | | | |
| --- | --- | --- | --- | --- | --- |
| Date | Open | High | Low | Close | Volume |
| 2022-09-30 | $64.08 | $65.34 | $63.68 | $63.91 | 1 104 661 |
| 2022-09-29 | $64.62 | $64.97 | $63.71 | $64.36 | 739 363 |
| 2022-09-28 | $63.81 | $65.79 | $63.62 | $65.26 | 739 921 |
| 2022-09-27 | $64.56 | $65.07 | $62.70 | $63.74 | 845 720 |
| 2022-09-26 | $64.23 | $65.29 | $63.76 | $63.82 | 796 329 |
| 2022-09-23 | $64.88 | $65.33 | $63.79 | $64.65 | 1 104 876 |
| 2022-09-22 | $67.61 | $67.74 | $65.75 | $65.98 | 1 086 047 |
| 2022-09-21 | $67.80 | $68.78 | $66.94 | $66.94 | 595 649 |
| 2022-09-20 | $68.30 | $68.95 | $67.28 | $67.39 | 879 980 |
| 2022-09-19 | $66.68 | $68.91 | $66.56 | $68.82 | 1 018 271 |
| 2022-09-16 | $69.36 | $69.38 | $67.05 | $67.72 | 4 952 886 |
| 2022-09-15 | $69.94 | $70.76 | $69.23 | $69.74 | 1 137 749 |
| 2022-09-14 | $68.89 | $70.68 | $68.89 | $70.24 | 1 490 827 |
| 2022-09-13 | $68.47 | $70.10 | $68.37 | $68.68 | 1 249 681 |
| 2022-09-12 | $69.61 | $70.69 | $69.43 | $69.79 | 1 592 372 |
| 2022-09-09 | $67.64 | $69.42 | $67.61 | $69.09 | 1 291 034 |
| 2022-09-08 | $65.92 | $67.27 | $65.77 | $67.19 | 1 093 401 |
| 2022-09-07 | $64.51 | $66.74 | $64.46 | $66.43 | 2 177 149 |
| 2022-09-06 | $62.31 | $64.92 | $62.31 | $64.87 | 1 885 931 |
| 2022-09-02 | $63.85 | $63.98 | $61.47 | $61.82 | 626 934 |
| 2022-09-01 | $60.93 | $62.95 | $59.56 | $62.89 | 1 059 670 |
| 2022-08-31 | $61.56 | $62.98 | $60.85 | $61.59 | 765 870 |
| 2022-08-30 | $61.59 | $61.61 | $60.09 | $60.74 | 522 531 |
| 2022-08-29 | $61.07 | $61.66 | $60.67 | $61.11 | 510 355 |
| 2022-08-26 | $63.82 | $63.88 | $61.56 | $61.61 | 414 027 |
| 2022-08-25 | $62.73 | $63.61 | $62.73 | $63.60 | 355 065 |
| 2022-08-24 | $62.09 | $62.90 | $61.95 | $62.59 | 405 372 |
| 2022-08-23 | $62.67 | $62.78 | $61.62 | $61.99 | 498 002 |
| 2022-08-22 | $61.71 | $62.81 | $61.45 | $62.46 | 2 483 997 |
| 2022-08-19 | $63.10 | $63.14 | $62.38 | $62.69 | 449 425 |
| 2022-08-18 | $65.05 | $65.05 | $63.73 | $63.95 | 841 347 |
| 2022-08-17 | $65.14 | $65.36 | $64.67 | $65.18 | 373 610 |
| 2022-08-16 | $65.38 | $66.12 | $65.22 | $65.81 | 500 137 |
| 2022-08-15 | $64.67 | $66.09 | $64.42 | $65.53 | 647 510 |
| 2022-08-12 | $64.38 | $65.25 | $63.71 | $65.19 | 665 259 |
| 2022-08-11 | $62.53 | $63.90 | $62.53 | $63.54 | 833 042 |
| 2022-08-10 | $61.68 | $62.42 | $61.47 | $62.14 | 538 101 |
| 2022-08-09 | $60.71 | $61.13 | $60.02 | $60.96 | 2 948 578 |
| 2022-08-08 | $61.82 | $62.17 | $60.78 | $61.23 | 1 045 736 |
| 2022-08-05 | $60.18 | $61.47 | $60.18 | $61.42 | 1 116 206 |
| 2022-08-04 | $59.55 | $61.06 | $59.18 | $60.95 | 2 258 164 |
| 2022-08-03 | $58.18 | $59.81 | $58.09 | $59.21 | 893 344 |
| 2022-08-02 | $56.01 | $58.19 | $55.79 | $57.73 | 3 152 587 |
| 2022-08-01 | $58.24 | $58.48 | $55.42 | $56.32 | 991 057 |
| 2022-07-29 | $58.20 | $59.09 | $58.01 | $58.69 | 911 867 |
| 2022-07-28 | $57.56 | $58.25 | $56.83 | $58.24 | 669 024 |
| 2022-07-27 | $56.33 | $58.03 | $56.21 | $57.47 | 550 333 |
| 2022-07-26 | $56.75 | $56.97 | $55.82 | $56.21 | 445 199 |
| 2022-07-25 | $56.86 | $57.19 | $56.16 | $57.08 | 658 303 |
| 2022-07-22 | $56.62 | $57.24 | $55.90 | $56.44 | 668 940 |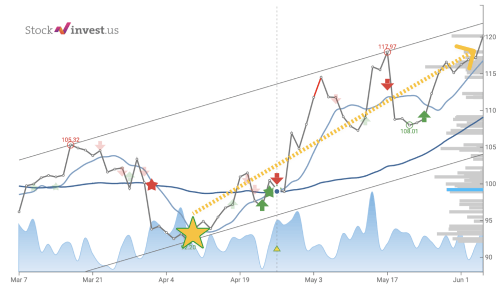 From 26 676 stocks, only a few dozen will trigger such a signal!
About Interactive Brokers Group

Interactive Brokers Group, Inc. operates as an automated electronic broker worldwide. The company specializes in executing, clearing, and settling trades in stocks, options, futures, foreign exchange instruments, bonds, mutual funds, exchange traded funds (ETFs), metals, and cryptocurrencies. It also custodies and services accounts for hedge and mutual funds, ETFs, registered investment advisors, proprietary trading groups, introducing brokers, a... IBKR Profile
Top Fintech Company

featured in The Global Fintech Index 2020 as the top Fintech company of the country.
Full report by