Unity Bancorp Stock Price (Quote) NASDAQ:UNTY
$25.41
(
-1.51%
)
Monday, 26th Sep 2022
Range
Low Price
High Price
Comment
30 days
$25.30
$28.75
Monday, 26th Sep 2022 UNTY stock ended at $25.41. This is 1.51% less than the trading day before Friday, 23rd Sep 2022. During the day the stock fluctuated 1.94% from a day low at $25.30 to a day high of $25.79.
90 days
$25.30
$29.87
52 weeks
$23.00
$31.37
Historical Unity Bancorp prices
| | | | | | |
| --- | --- | --- | --- | --- | --- |
| Date | Open | High | Low | Close | Volume |
| 2022-09-26 | $25.62 | $25.79 | $25.30 | $25.41 | 21 294 |
| 2022-09-23 | $25.95 | $25.95 | $25.52 | $25.80 | 11 635 |
| 2022-09-22 | $26.48 | $26.48 | $25.85 | $26.09 | 12 831 |
| 2022-09-21 | $26.49 | $27.10 | $26.36 | $26.40 | 16 731 |
| 2022-09-20 | $26.76 | $26.76 | $26.36 | $26.62 | 14 016 |
| 2022-09-19 | $26.30 | $26.89 | $26.11 | $26.86 | 25 230 |
| 2022-09-16 | $26.65 | $27.12 | $26.13 | $26.30 | 78 467 |
| 2022-09-15 | $26.70 | $27.35 | $26.55 | $26.88 | 18 640 |
| 2022-09-14 | $27.00 | $27.00 | $26.45 | $26.58 | 15 728 |
| 2022-09-13 | $27.46 | $27.53 | $26.76 | $26.84 | 16 697 |
| 2022-09-12 | $27.70 | $27.96 | $27.61 | $27.61 | 13 291 |
| 2022-09-09 | $27.90 | $27.90 | $27.61 | $27.70 | 9 936 |
| 2022-09-08 | $27.27 | $27.45 | $27.09 | $27.45 | 5 066 |
| 2022-09-07 | $27.21 | $27.38 | $26.91 | $27.37 | 10 671 |
| 2022-09-06 | $27.55 | $27.55 | $26.99 | $27.13 | 19 377 |
| 2022-09-02 | $27.51 | $27.69 | $27.16 | $27.49 | 22 082 |
| 2022-09-01 | $28.07 | $28.07 | $27.51 | $27.59 | 22 013 |
| 2022-08-31 | $28.24 | $28.54 | $27.83 | $28.03 | 20 548 |
| 2022-08-30 | $28.00 | $28.31 | $28.00 | $28.26 | 6 918 |
| 2022-08-29 | $28.71 | $28.75 | $28.20 | $28.30 | 23 227 |
| 2022-08-26 | $29.00 | $29.00 | $28.64 | $28.71 | 11 730 |
| 2022-08-25 | $29.04 | $29.21 | $28.83 | $29.13 | 11 006 |
| 2022-08-24 | $29.02 | $29.16 | $28.47 | $28.86 | 34 138 |
| 2022-08-23 | $29.28 | $29.28 | $29.00 | $29.00 | 14 972 |
| 2022-08-22 | $29.55 | $29.62 | $28.88 | $29.09 | 18 774 |
| 2022-08-19 | $29.56 | $29.78 | $29.42 | $29.66 | 33 602 |
| 2022-08-18 | $29.62 | $29.87 | $29.40 | $29.63 | 12 630 |
| 2022-08-17 | $29.53 | $29.62 | $29.04 | $29.42 | 11 872 |
| 2022-08-16 | $28.82 | $29.81 | $28.82 | $29.48 | 19 826 |
| 2022-08-15 | $28.35 | $29.00 | $28.35 | $28.94 | 29 135 |
| 2022-08-12 | $28.19 | $28.38 | $28.08 | $28.37 | 27 777 |
| 2022-08-11 | $28.29 | $28.39 | $27.99 | $28.10 | 38 169 |
| 2022-08-10 | $28.47 | $28.62 | $28.11 | $28.18 | 16 151 |
| 2022-08-09 | $28.13 | $28.50 | $28.13 | $28.43 | 16 280 |
| 2022-08-08 | $28.00 | $28.14 | $28.00 | $28.00 | 26 660 |
| 2022-08-05 | $27.80 | $28.00 | $27.75 | $27.95 | 20 738 |
| 2022-08-04 | $27.69 | $27.93 | $27.69 | $27.85 | 12 670 |
| 2022-08-03 | $27.70 | $27.83 | $27.64 | $27.74 | 19 332 |
| 2022-08-02 | $27.98 | $28.03 | $27.75 | $27.75 | 17 176 |
| 2022-08-01 | $27.95 | $28.26 | $27.75 | $28.01 | 37 966 |
| 2022-07-29 | $27.97 | $28.27 | $27.75 | $28.02 | 20 413 |
| 2022-07-28 | $27.53 | $28.09 | $27.48 | $27.81 | 11 936 |
| 2022-07-27 | $27.33 | $27.94 | $27.33 | $27.65 | 25 136 |
| 2022-07-26 | $27.52 | $27.56 | $27.33 | $27.41 | 16 101 |
| 2022-07-25 | $27.07 | $27.58 | $27.05 | $27.43 | 31 424 |
| 2022-07-22 | $27.01 | $27.30 | $26.80 | $26.89 | 20 022 |
| 2022-07-21 | $27.18 | $27.22 | $27.03 | $27.15 | 18 689 |
| 2022-07-20 | $27.11 | $27.26 | $26.77 | $27.17 | 56 418 |
| 2022-07-19 | $26.94 | $27.39 | $26.94 | $27.15 | 35 617 |
| 2022-07-18 | $26.81 | $27.14 | $26.74 | $26.82 | 30 566 |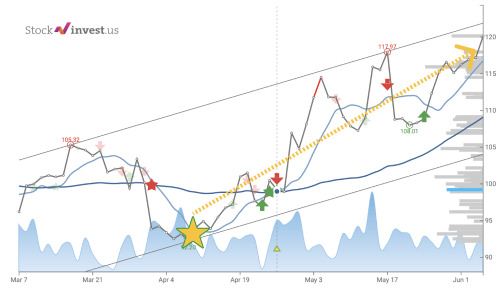 From 27 079 stocks, only a few dozen will trigger such a signal!
About Unity Bancorp
Unity Bancorp, Inc. operates as the holding company for Unity Bank that provides commercial and retail banking products and services to individuals, small and medium sized businesses, and professional communities. The company offers personal and business checking accounts, time deposits, money market accounts, and regular savings accounts, as well as noninterest and interest-bearing demand deposits. It also provides small business administration ... UNTY Profile
Top Fintech Company

featured in The Global Fintech Index 2020 as the top Fintech company of the country.
Full report by