NASDAQ:ATOS
Atossa Genetics Stock Price (Quote)
$0.83
(
0%
)
Friday, 3rd Feb 2023
Range
Low Price
High Price
Comment
30 days
$0.591
$1.00
Friday, 3rd Feb 2023 ATOS stock ended at $0.83. During the day the stock fluctuated 7.18% from a day low at $0.81 to a day high of $0.87.
90 days
$0.500
$1.00
52 weeks
$0.500
$1.62
Historical Atossa Genetics Inc. prices
| | | | | | |
| --- | --- | --- | --- | --- | --- |
| Date | Open | High | Low | Close | Volume |
| 2023-02-03 | $0.81 | $0.87 | $0.81 | $0.83 | 530 815 |
| 2023-02-02 | $0.81 | $0.85 | $0.81 | $0.83 | 528 899 |
| 2023-02-01 | $0.82 | $0.82 | $0.781 | $0.80 | 418 528 |
| 2023-01-31 | $0.83 | $0.85 | $0.780 | $0.80 | 309 056 |
| 2023-01-30 | $0.83 | $0.84 | $0.80 | $0.80 | 332 206 |
| 2023-01-27 | $0.82 | $0.84 | $0.794 | $0.82 | 352 791 |
| 2023-01-26 | $0.85 | $0.85 | $0.80 | $0.81 | 352 297 |
| 2023-01-25 | $0.750 | $0.85 | $0.721 | $0.84 | 705 808 |
| 2023-01-24 | $0.799 | $0.800 | $0.751 | $0.756 | 220 257 |
| 2023-01-23 | $0.81 | $0.82 | $0.750 | $0.782 | 642 341 |
| 2023-01-20 | $0.83 | $0.87 | $0.80 | $0.81 | 679 945 |
| 2023-01-19 | $0.86 | $0.91 | $0.780 | $0.84 | 1 579 411 |
| 2023-01-18 | $0.92 | $1.00 | $0.90 | $0.91 | 1 897 221 |
| 2023-01-17 | $0.85 | $0.94 | $0.84 | $0.91 | 1 046 000 |
| 2023-01-13 | $0.770 | $0.89 | $0.750 | $0.85 | 1 275 204 |
| 2023-01-12 | $0.720 | $0.780 | $0.700 | $0.750 | 628 100 |
| 2023-01-11 | $0.673 | $0.720 | $0.660 | $0.720 | 584 752 |
| 2023-01-10 | $0.700 | $0.720 | $0.670 | $0.670 | 582 000 |
| 2023-01-09 | $0.710 | $0.738 | $0.700 | $0.700 | 467 733 |
| 2023-01-06 | $0.720 | $0.730 | $0.680 | $0.720 | 632 600 |
| 2023-01-05 | $0.625 | $0.719 | $0.591 | $0.708 | 817 152 |
| 2023-01-04 | $0.624 | $0.634 | $0.610 | $0.619 | 489 781 |
| 2023-01-03 | $0.557 | $0.630 | $0.550 | $0.586 | 690 497 |
| 2022-12-30 | $0.510 | $0.549 | $0.500 | $0.529 | 886 742 |
| 2022-12-29 | $0.500 | $0.550 | $0.500 | $0.522 | 815 244 |
| 2022-12-28 | $0.508 | $0.520 | $0.500 | $0.502 | 583 714 |
| 2022-12-27 | $0.580 | $0.580 | $0.505 | $0.516 | 752 856 |
| 2022-12-23 | $0.560 | $0.599 | $0.551 | $0.576 | 346 827 |
| 2022-12-22 | $0.570 | $0.590 | $0.550 | $0.564 | 432 191 |
| 2022-12-21 | $0.590 | $0.610 | $0.570 | $0.572 | 510 874 |
| 2022-12-20 | $0.580 | $0.600 | $0.560 | $0.590 | 494 979 |
| 2022-12-19 | $0.582 | $0.582 | $0.540 | $0.570 | 695 627 |
| 2022-12-16 | $0.580 | $0.597 | $0.570 | $0.583 | 527 637 |
| 2022-12-15 | $0.613 | $0.613 | $0.580 | $0.585 | 578 933 |
| 2022-12-14 | $0.630 | $0.650 | $0.606 | $0.614 | 512 166 |
| 2022-12-13 | $0.670 | $0.680 | $0.630 | $0.630 | 375 446 |
| 2022-12-12 | $0.660 | $0.700 | $0.640 | $0.665 | 480 091 |
| 2022-12-09 | $0.680 | $0.700 | $0.655 | $0.669 | 814 501 |
| 2022-12-08 | $0.680 | $0.680 | $0.650 | $0.674 | 572 898 |
| 2022-12-07 | $0.701 | $0.712 | $0.630 | $0.665 | 905 765 |
| 2022-12-06 | $0.720 | $0.760 | $0.675 | $0.714 | 688 939 |
| 2022-12-05 | $0.765 | $0.765 | $0.731 | $0.731 | 480 865 |
| 2022-12-02 | $0.760 | $0.770 | $0.750 | $0.765 | 242 746 |
| 2022-12-01 | $0.750 | $0.780 | $0.750 | $0.766 | 319 868 |
| 2022-11-30 | $0.760 | $0.770 | $0.750 | $0.750 | 353 152 |
| 2022-11-29 | $0.775 | $0.797 | $0.760 | $0.762 | 238 380 |
| 2022-11-28 | $0.770 | $0.81 | $0.762 | $0.771 | 326 650 |
| 2022-11-25 | $0.772 | $0.82 | $0.761 | $0.82 | 386 764 |
| 2022-11-23 | $0.791 | $0.80 | $0.779 | $0.787 | 153 217 |
| 2022-11-22 | $0.780 | $0.797 | $0.760 | $0.777 | 352 505 |
About Atossa Genetics Inc.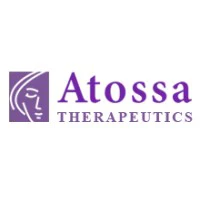 Atossa Therapeutics, Inc., a clinical-stage biopharmaceutical company, focuses on the discovery and development of medicines in the areas of oncology and infectious diseases. The company's lead program is Endoxifen, an active metabolite of tamoxifen, which is in Phase II clinical trials to treat and prevent breast cancer. It is also developing AT-H201, an inhalation therapy to improve lung function in severely ill and hospitalized COVID-19 patien... ATOS Profile
Top Fintech Company
featured in The Global Fintech Index 2020 as the top Fintech company of the country.
Full report by