NASDAQ:CWCO
Consolidated Water Co. Ltd. Stock Price (Quote)
$15.37
(
2.74%
)
Friday, 3rd Feb 2023
Range
Low Price
High Price
Comment
30 days
$13.68
$15.55
Friday, 3rd Feb 2023 CWCO stock ended at $15.37. This is 2.74% more than the trading day before Thursday, 2nd Feb 2023. During the day the stock fluctuated 4.89% from a day low at $14.82 to a day high of $15.55.
90 days
$13.38
$19.09
52 weeks
$9.01
$20.58
Historical Consolidated Water Co. Ltd. prices
| | | | | | |
| --- | --- | --- | --- | --- | --- |
| Date | Open | High | Low | Close | Volume |
| 2023-02-03 | $14.82 | $15.55 | $14.82 | $15.37 | 70 652 |
| 2023-02-02 | $14.98 | $15.24 | $14.92 | $14.96 | 58 233 |
| 2023-02-01 | $14.55 | $15.14 | $14.55 | $15.03 | 80 802 |
| 2023-01-31 | $14.33 | $14.87 | $14.18 | $14.65 | 103 261 |
| 2023-01-30 | $14.30 | $14.41 | $14.07 | $14.23 | 37 949 |
| 2023-01-27 | $14.15 | $14.51 | $14.15 | $14.40 | 47 012 |
| 2023-01-26 | $14.31 | $14.57 | $14.18 | $14.27 | 38 008 |
| 2023-01-25 | $14.14 | $14.45 | $14.08 | $14.40 | 34 904 |
| 2023-01-24 | $13.97 | $14.30 | $13.90 | $14.22 | 35 550 |
| 2023-01-23 | $14.19 | $14.38 | $13.88 | $14.01 | 134 783 |
| 2023-01-20 | $14.17 | $14.25 | $13.68 | $14.17 | 152 500 |
| 2023-01-19 | $14.30 | $14.45 | $14.01 | $14.16 | 43 328 |
| 2023-01-18 | $14.82 | $14.90 | $14.12 | $14.32 | 75 032 |
| 2023-01-17 | $14.70 | $15.00 | $14.51 | $14.78 | 43 400 |
| 2023-01-13 | $14.39 | $14.94 | $14.39 | $14.69 | 66 323 |
| 2023-01-12 | $14.54 | $14.70 | $14.20 | $14.52 | 66 012 |
| 2023-01-11 | $14.69 | $14.80 | $14.34 | $14.63 | 56 450 |
| 2023-01-10 | $14.73 | $14.86 | $14.47 | $14.61 | 46 200 |
| 2023-01-09 | $14.37 | $14.87 | $14.31 | $14.66 | 44 800 |
| 2023-01-06 | $14.31 | $14.87 | $14.31 | $14.65 | 59 800 |
| 2023-01-05 | $14.25 | $14.35 | $14.01 | $14.30 | 31 057 |
| 2023-01-04 | $14.55 | $14.70 | $14.21 | $14.33 | 47 837 |
| 2023-01-03 | $14.60 | $14.92 | $14.22 | $14.55 | 68 934 |
| 2022-12-30 | $15.07 | $15.26 | $14.74 | $14.80 | 40 943 |
| 2022-12-29 | $15.19 | $15.55 | $15.08 | $15.26 | 66 219 |
| 2022-12-28 | $15.15 | $15.33 | $15.00 | $15.04 | 48 815 |
| 2022-12-27 | $14.71 | $15.26 | $14.70 | $15.11 | 75 437 |
| 2022-12-23 | $14.86 | $14.93 | $14.59 | $14.79 | 22 059 |
| 2022-12-22 | $14.84 | $15.00 | $14.62 | $14.83 | 38 217 |
| 2022-12-21 | $15.49 | $15.49 | $15.02 | $15.02 | 43 572 |
| 2022-12-20 | $15.18 | $15.51 | $14.89 | $15.36 | 68 863 |
| 2022-12-19 | $14.67 | $15.34 | $14.59 | $15.25 | 87 168 |
| 2022-12-16 | $15.26 | $15.26 | $14.65 | $14.67 | 275 789 |
| 2022-12-15 | $15.67 | $15.67 | $14.90 | $15.18 | 74 339 |
| 2022-12-14 | $15.47 | $15.81 | $15.33 | $15.58 | 92 914 |
| 2022-12-13 | $15.55 | $15.60 | $15.05 | $15.29 | 99 330 |
| 2022-12-12 | $14.76 | $15.50 | $14.66 | $15.26 | 90 106 |
| 2022-12-09 | $14.84 | $14.98 | $14.69 | $14.82 | 39 124 |
| 2022-12-08 | $14.76 | $15.07 | $14.60 | $14.86 | 67 393 |
| 2022-12-07 | $14.52 | $14.85 | $14.31 | $14.76 | 43 010 |
| 2022-12-06 | $15.13 | $15.19 | $14.52 | $14.52 | 51 736 |
| 2022-12-05 | $14.90 | $15.17 | $14.61 | $15.13 | 90 991 |
| 2022-12-02 | $14.79 | $15.00 | $14.57 | $14.82 | 71 214 |
| 2022-12-01 | $14.70 | $15.09 | $14.56 | $14.83 | 106 713 |
| 2022-11-30 | $14.28 | $14.67 | $14.09 | $14.56 | 104 671 |
| 2022-11-29 | $14.34 | $14.43 | $14.00 | $14.28 | 85 260 |
| 2022-11-28 | $14.23 | $14.67 | $14.13 | $14.27 | 96 625 |
| 2022-11-25 | $14.32 | $14.80 | $14.13 | $14.47 | 46 048 |
| 2022-11-23 | $15.10 | $15.10 | $14.28 | $14.39 | 141 775 |
| 2022-11-22 | $15.07 | $15.22 | $14.85 | $15.03 | 102 359 |
About Consolidated Water Co. Ltd.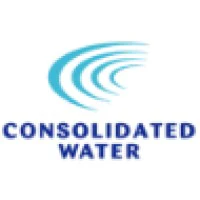 Consolidated Water Co. Ltd., together with its subsidiaries, designs, constructs, manages, and operates water production and water treatment plants primarily in the Cayman Islands, the Bahamas, and the United States. The company operates through four segments: Retail, Bulk, Services, and Manufacturing. It uses reverse osmosis technology to produce potable water from seawater. The company produces and supplies water to end-users, including residen... CWCO Profile
Top Fintech Company
featured in The Global Fintech Index 2020 as the top Fintech company of the country.
Full report by