NASDAQ:EPIX
ESSA Pharma Inc. Stock Price (Quote)
$3.05
(
2.01%
)
Friday, 2nd Jun 2023
Range
Low Price
High Price
Comment
30 days
$2.56
$3.15
Friday, 2nd Jun 2023 EPIX stock ended at $3.05. This is 2.01% more than the trading day before Thursday, 1st Jun 2023. During the day the stock fluctuated 3.74% from a day low at $2.94 to a day high of $3.05.
90 days
$2.56
$3.21
52 weeks
$1.40
$5.38
Historical ESSA Pharma Inc. prices
| | | | | | |
| --- | --- | --- | --- | --- | --- |
| Date | Open | High | Low | Close | Volume |
| 2023-06-02 | $2.99 | $3.05 | $2.94 | $3.05 | 20 583 |
| 2023-06-01 | $2.88 | $3.07 | $2.78 | $2.99 | 31 442 |
| 2023-05-31 | $2.80 | $3.01 | $2.80 | $3.00 | 39 579 |
| 2023-05-30 | $3.05 | $3.05 | $2.82 | $2.93 | 89 176 |
| 2023-05-26 | $3.06 | $3.15 | $2.93 | $3.03 | 33 596 |
| 2023-05-25 | $2.94 | $3.15 | $2.81 | $3.15 | 105 407 |
| 2023-05-24 | $3.09 | $3.12 | $2.88 | $2.95 | 16 281 |
| 2023-05-23 | $2.95 | $3.14 | $2.92 | $3.06 | 30 386 |
| 2023-05-22 | $2.79 | $3.03 | $2.74 | $2.97 | 43 903 |
| 2023-05-19 | $3.00 | $3.00 | $2.76 | $2.79 | 17 014 |
| 2023-05-18 | $2.99 | $3.09 | $2.90 | $3.02 | 36 573 |
| 2023-05-17 | $2.90 | $2.99 | $2.90 | $2.97 | 10 790 |
| 2023-05-16 | $2.99 | $2.99 | $2.94 | $2.95 | 16 376 |
| 2023-05-15 | $3.01 | $3.01 | $2.86 | $2.92 | 19 730 |
| 2023-05-12 | $2.95 | $3.02 | $2.82 | $3.00 | 66 171 |
| 2023-05-11 | $2.82 | $3.00 | $2.77 | $2.98 | 60 753 |
| 2023-05-10 | $2.90 | $3.00 | $2.73 | $2.80 | 38 888 |
| 2023-05-09 | $2.95 | $3.00 | $2.87 | $2.98 | 57 229 |
| 2023-05-08 | $2.98 | $3.02 | $2.88 | $2.92 | 35 160 |
| 2023-05-05 | $2.94 | $3.01 | $2.91 | $2.97 | 11 383 |
| 2023-05-04 | $2.85 | $3.00 | $2.71 | $2.94 | 53 719 |
| 2023-05-03 | $2.63 | $2.87 | $2.56 | $2.85 | 104 416 |
| 2023-05-02 | $2.69 | $2.72 | $2.60 | $2.60 | 15 065 |
| 2023-05-01 | $2.76 | $2.82 | $2.66 | $2.70 | 29 922 |
| 2023-04-28 | $2.73 | $2.79 | $2.58 | $2.75 | 54 199 |
| 2023-04-27 | $2.68 | $2.72 | $2.61 | $2.72 | 29 288 |
| 2023-04-26 | $2.63 | $2.70 | $2.63 | $2.69 | 7 061 |
| 2023-04-25 | $2.70 | $2.70 | $2.58 | $2.68 | 57 024 |
| 2023-04-24 | $2.77 | $2.77 | $2.65 | $2.71 | 24 686 |
| 2023-04-21 | $2.73 | $2.80 | $2.70 | $2.78 | 25 605 |
| 2023-04-20 | $2.81 | $2.82 | $2.70 | $2.77 | 10 189 |
| 2023-04-19 | $2.80 | $2.86 | $2.80 | $2.84 | 3 434 |
| 2023-04-18 | $2.82 | $2.93 | $2.78 | $2.84 | 39 538 |
| 2023-04-17 | $2.78 | $2.86 | $2.78 | $2.82 | 13 704 |
| 2023-04-14 | $2.85 | $2.85 | $2.70 | $2.77 | 94 899 |
| 2023-04-13 | $2.73 | $2.99 | $2.65 | $2.82 | 206 608 |
| 2023-04-12 | $3.00 | $3.03 | $2.65 | $2.75 | 396 094 |
| 2023-04-11 | $2.94 | $3.02 | $2.84 | $2.92 | 43 655 |
| 2023-04-10 | $3.06 | $3.06 | $2.82 | $2.94 | 23 479 |
| 2023-04-06 | $2.87 | $3.07 | $2.80 | $3.04 | 185 914 |
| 2023-04-05 | $2.80 | $2.95 | $2.62 | $2.91 | 189 989 |
| 2023-04-04 | $3.05 | $3.10 | $2.76 | $2.80 | 49 610 |
| 2023-04-03 | $3.00 | $3.00 | $2.85 | $2.96 | 51 022 |
| 2023-03-31 | $2.87 | $3.02 | $2.87 | $2.97 | 58 776 |
| 2023-03-30 | $3.07 | $3.07 | $2.94 | $2.95 | 14 061 |
| 2023-03-29 | $2.98 | $3.18 | $2.91 | $3.07 | 156 763 |
| 2023-03-28 | $3.10 | $3.10 | $2.97 | $2.98 | 120 054 |
| 2023-03-27 | $2.90 | $3.06 | $2.90 | $3.06 | 133 468 |
| 2023-03-24 | $2.94 | $2.98 | $2.86 | $2.90 | 26 917 |
| 2023-03-23 | $3.07 | $3.14 | $2.95 | $3.00 | 77 670 |
About ESSA Pharma Inc.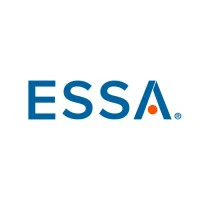 ESSA Pharma Inc., a clinical stage pharmaceutical company, focuses on developing novel and proprietary therapies for the treatment of prostate cancer. It develops EPI-7386, an oral candidate that is in a Phase I clinical study for the treatment of patients with metastatic castration-resistant prostate cancer. The company has collaboration agreements with Caris Life Sciences, Inc.; Bayer Consumer Care AG; Janssen Research & Development, LLC; and A... EPIX Profile
Top Fintech Company
featured in The Global Fintech Index 2020 as the top Fintech company of the country.
Full report by