NASDAQ:CECE
CECO Environmental Corp. Stock Price (Quote)
$13.80
(
0.0725%
)
Friday, 27th Jan 2023
Range
Low Price
High Price
Comment
30 days
$11.65
$14.81
Friday, 27th Jan 2023 CECE stock ended at $13.80. This is 0.0725% more than the trading day before Thursday, 26th Jan 2023. During the day the stock fluctuated 4.37% from a day low at $13.51 to a day high of $14.10.
90 days
$10.90
$14.81
52 weeks
$4.09
$14.81
Historical CECO Environmental Corp. prices
| | | | | | |
| --- | --- | --- | --- | --- | --- |
| Date | Open | High | Low | Close | Volume |
| 2023-01-27 | $13.58 | $14.10 | $13.51 | $13.80 | 0 |
| 2023-01-26 | $14.30 | $14.30 | $13.63 | $13.79 | 0 |
| 2023-01-25 | $14.33 | $14.40 | $14.10 | $14.17 | 0 |
| 2023-01-24 | $14.26 | $14.40 | $13.94 | $14.27 | 0 |
| 2023-01-23 | $14.41 | $14.81 | $14.35 | $14.48 | 0 |
| 2023-01-20 | $14.03 | $14.62 | $14.03 | $14.28 | 0 |
| 2023-01-19 | $13.57 | $14.13 | $13.48 | $13.99 | 0 |
| 2023-01-18 | $14.29 | $14.31 | $13.55 | $13.62 | 0 |
| 2023-01-17 | $14.34 | $14.43 | $14.03 | $14.24 | 0 |
| 2023-01-13 | $13.85 | $14.37 | $13.85 | $14.34 | 0 |
| 2023-01-12 | $14.29 | $14.63 | $13.80 | $14.27 | 0 |
| 2023-01-11 | $13.85 | $14.38 | $13.31 | $14.13 | 0 |
| 2023-01-10 | $12.35 | $13.84 | $12.21 | $13.75 | 0 |
| 2023-01-09 | $12.40 | $12.67 | $12.05 | $12.13 | 0 |
| 2023-01-06 | $11.89 | $12.20 | $11.80 | $12.20 | 305 978 |
| 2023-01-05 | $11.65 | $11.65 | $11.65 | $11.65 | 0 |
| 2023-01-04 | $11.65 | $11.65 | $11.65 | $11.65 | 0 |
| 2023-01-03 | $11.65 | $11.65 | $11.65 | $11.65 | 0 |
| 2022-12-30 | $11.65 | $11.65 | $11.65 | $11.65 | 0 |
| 2022-12-29 | $11.65 | $11.65 | $11.65 | $11.65 | 0 |
| 2022-12-28 | $11.65 | $11.65 | $11.65 | $11.65 | 0 |
| 2022-12-27 | $11.65 | $11.65 | $11.65 | $11.65 | 0 |
| 2022-12-23 | $11.65 | $11.65 | $11.65 | $11.65 | 0 |
| 2022-12-22 | $11.65 | $11.65 | $11.65 | $11.65 | 0 |
| 2022-12-21 | $11.65 | $11.65 | $11.65 | $11.65 | 0 |
| 2022-12-20 | $11.65 | $11.65 | $11.65 | $11.65 | 0 |
| 2022-12-19 | $11.65 | $11.65 | $11.65 | $11.65 | 0 |
| 2022-12-16 | $11.65 | $11.65 | $11.65 | $11.65 | 0 |
| 2022-12-15 | $11.65 | $11.65 | $11.65 | $11.65 | 0 |
| 2022-12-14 | $11.65 | $11.65 | $11.65 | $11.65 | 0 |
| 2022-12-13 | $11.65 | $11.65 | $11.65 | $11.65 | 0 |
| 2022-12-12 | $11.65 | $11.65 | $11.65 | $11.65 | 0 |
| 2022-12-09 | $11.65 | $11.65 | $11.65 | $11.65 | 0 |
| 2022-12-08 | $11.65 | $11.65 | $11.65 | $11.65 | 0 |
| 2022-12-07 | $11.65 | $11.65 | $11.65 | $11.65 | 0 |
| 2022-12-06 | $11.65 | $11.65 | $11.65 | $11.65 | 0 |
| 2022-12-05 | $11.65 | $11.65 | $11.65 | $11.65 | 0 |
| 2022-12-02 | $11.65 | $11.65 | $11.65 | $11.65 | 0 |
| 2022-12-01 | $11.65 | $11.65 | $11.65 | $11.65 | 0 |
| 2022-11-30 | $11.65 | $11.65 | $11.65 | $11.65 | 0 |
| 2022-11-29 | $11.65 | $11.65 | $11.65 | $11.65 | 0 |
| 2022-11-28 | $11.65 | $11.65 | $11.65 | $11.65 | 0 |
| 2022-11-25 | $11.65 | $11.65 | $11.65 | $11.65 | 0 |
| 2022-11-23 | $11.65 | $11.65 | $11.65 | $11.65 | 0 |
| 2022-11-22 | $11.65 | $11.65 | $11.65 | $11.65 | 0 |
| 2022-11-21 | $11.65 | $11.65 | $11.65 | $11.65 | 0 |
| 2022-11-18 | $11.65 | $11.65 | $11.65 | $11.65 | 0 |
| 2022-11-17 | $11.65 | $11.65 | $11.65 | $11.65 | 0 |
| 2022-11-16 | $11.65 | $11.65 | $11.65 | $11.65 | 0 |
| 2022-11-15 | $11.65 | $11.65 | $11.65 | $11.65 | 0 |
About CECO Environmental Corp.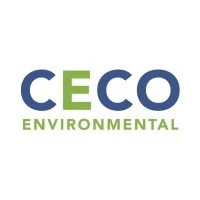 CECO Environmental Corp. provides industrial air quality and fluid handling systems worldwide. It operates in two segments: Engineered Systems Segment and Industrial Process Solutions Segment. The company engineers, designs, builds, and installs systems that capture, clean, and destroy air- and water-borne emissions from industrial facilities as well as fluid handling, gas separation, and filtration systems. It offers dampers and diverters, selec... CECE Profile
Top Fintech Company
featured in The Global Fintech Index 2020 as the top Fintech company of the country.
Full report by