NASDAQ:BBBY
Bed Bath & Beyond Inc. Stock Price (Quote)
$0.0751
(
0%
)
Friday, 2nd Jun 2023
Range
Low Price
High Price
Comment
30 days
$0.0751
$0.0751
Friday, 2nd Jun 2023 BBBY stock ended at $0.0751. During the day the stock fluctuated 0% from a day low at $0.0751 to a day high of $0.0751.
90 days
$0.0713
$1.54
52 weeks
$0.0713
$30.00
Historical Bed Bath & Beyond Inc. prices
| | | | | | |
| --- | --- | --- | --- | --- | --- |
| Date | Open | High | Low | Close | Volume |
| 2023-06-02 | $0.0751 | $0.0751 | $0.0751 | $0.0751 | 0 |
| 2023-06-01 | $0.0751 | $0.0751 | $0.0751 | $0.0751 | 0 |
| 2023-05-31 | $0.0751 | $0.0751 | $0.0751 | $0.0751 | 0 |
| 2023-05-30 | $0.0751 | $0.0751 | $0.0751 | $0.0751 | 0 |
| 2023-05-26 | $0.0751 | $0.0751 | $0.0751 | $0.0751 | 0 |
| 2023-05-25 | $0.0751 | $0.0751 | $0.0751 | $0.0751 | 0 |
| 2023-05-24 | $0.0751 | $0.0751 | $0.0751 | $0.0751 | 0 |
| 2023-05-23 | $0.0751 | $0.0751 | $0.0751 | $0.0751 | 0 |
| 2023-05-22 | $0.0751 | $0.0751 | $0.0751 | $0.0751 | 0 |
| 2023-05-19 | $0.0751 | $0.0751 | $0.0751 | $0.0751 | 0 |
| 2023-05-18 | $0.0751 | $0.0751 | $0.0751 | $0.0751 | 0 |
| 2023-05-17 | $0.0751 | $0.0751 | $0.0751 | $0.0751 | 0 |
| 2023-05-16 | $0.0751 | $0.0751 | $0.0751 | $0.0751 | 0 |
| 2023-05-15 | $0.0751 | $0.0751 | $0.0751 | $0.0751 | 0 |
| 2023-05-12 | $0.0751 | $0.0751 | $0.0751 | $0.0751 | 0 |
| 2023-05-11 | $0.0751 | $0.0751 | $0.0751 | $0.0751 | 0 |
| 2023-05-10 | $0.0751 | $0.0751 | $0.0751 | $0.0751 | 0 |
| 2023-05-09 | $0.0751 | $0.0751 | $0.0751 | $0.0751 | 0 |
| 2023-05-08 | $0.0751 | $0.0751 | $0.0751 | $0.0751 | 0 |
| 2023-05-05 | $0.0751 | $0.0751 | $0.0751 | $0.0751 | 0 |
| 2023-05-04 | $0.0751 | $0.0751 | $0.0751 | $0.0751 | 0 |
| 2023-05-03 | $0.0751 | $0.0751 | $0.0751 | $0.0751 | 0 |
| 2023-05-02 | $0.101 | $0.101 | $0.0713 | $0.0751 | 174 510 874 |
| 2023-05-01 | $0.109 | $0.122 | $0.100 | $0.103 | 118 152 378 |
| 2023-04-28 | $0.120 | $0.137 | $0.100 | $0.107 | 221 502 158 |
| 2023-04-27 | $0.124 | $0.134 | $0.112 | $0.117 | 173 467 537 |
| 2023-04-26 | $0.157 | $0.160 | $0.112 | $0.112 | 313 053 431 |
| 2023-04-25 | $0.189 | $0.223 | $0.187 | $0.199 | 259 068 149 |
| 2023-04-24 | $0.200 | $0.245 | $0.176 | $0.189 | 514 277 306 |
| 2023-04-21 | $0.302 | $0.370 | $0.280 | $0.294 | 332 192 362 |
| 2023-04-20 | $0.370 | $0.396 | $0.281 | $0.300 | 337 335 731 |
| 2023-04-19 | $0.421 | $0.560 | $0.400 | $0.464 | 915 150 173 |
| 2023-04-18 | $0.320 | $0.351 | $0.301 | $0.343 | 289 811 794 |
| 2023-04-17 | $0.240 | $0.322 | $0.236 | $0.280 | 330 830 179 |
| 2023-04-14 | $0.250 | $0.254 | $0.233 | $0.238 | 87 910 677 |
| 2023-04-13 | $0.281 | $0.281 | $0.253 | $0.257 | 114 461 900 |
| 2023-04-12 | $0.322 | $0.322 | $0.280 | $0.280 | 121 532 314 |
| 2023-04-11 | $0.293 | $0.344 | $0.291 | $0.314 | 183 439 313 |
| 2023-04-10 | $0.305 | $0.310 | $0.286 | $0.296 | 91 558 406 |
| 2023-04-06 | $0.332 | $0.334 | $0.298 | $0.309 | 114 799 737 |
| 2023-04-05 | $0.369 | $0.369 | $0.320 | $0.337 | 101 095 296 |
| 2023-04-04 | $0.373 | $0.380 | $0.333 | $0.354 | 118 598 003 |
| 2023-04-03 | $0.450 | $0.450 | $0.360 | $0.385 | 180 861 771 |
| 2023-03-31 | $0.543 | $0.550 | $0.420 | $0.427 | 166 757 598 |
| 2023-03-30 | $0.773 | $0.81 | $0.590 | $0.594 | 157 126 741 |
| 2023-03-29 | $0.80 | $0.81 | $0.790 | $0.80 | 11 922 715 |
| 2023-03-28 | $0.790 | $0.83 | $0.778 | $0.792 | 23 314 259 |
| 2023-03-27 | $0.83 | $0.83 | $0.777 | $0.788 | 30 513 339 |
| 2023-03-24 | $0.795 | $0.89 | $0.771 | $0.82 | 56 956 002 |
| 2023-03-23 | $0.84 | $0.84 | $0.780 | $0.786 | 41 230 422 |
About Bed Bath & Beyond Inc.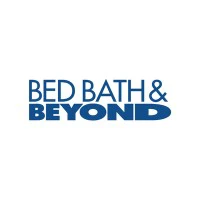 Bed Bath & Beyond Inc., together with its subsidiaries, operates a chain of retail stores. It sells a range of domestics merchandise, including bed linens and related items, bath items, and kitchen textiles; and home furnishings, such as kitchen and tabletop items, fine tabletop, basic housewares, general home furnishings, consumables, and various juvenile products. As of February 26, 2022, the company had 953 stores, which included 771 Bed Bath ... BBBY Profile
Top Fintech Company
featured in The Global Fintech Index 2020 as the top Fintech company of the country.
Full report by