NASDAQ:ARRY
Array Technologies, Inc. Stock Price (Quote)
$23.03
(
-0.217%
)
Friday, 26th May 2023
Range
Low Price
High Price
Comment
30 days
$17.51
$24.99
Friday, 26th May 2023 ARRY stock ended at $23.03. This is 0.217% less than the trading day before Thursday, 25th May 2023. During the day the stock fluctuated 3.46% from a day low at $22.55 to a day high of $23.33.
90 days
$16.26
$24.99
52 weeks
$9.24
$24.99
Historical Array Technologies, Inc. prices
| | | | | | |
| --- | --- | --- | --- | --- | --- |
| Date | Open | High | Low | Close | Volume |
| 2023-05-26 | $22.99 | $23.33 | $22.55 | $23.03 | 3 505 675 |
| 2023-05-25 | $23.64 | $23.65 | $22.92 | $23.08 | 3 248 563 |
| 2023-05-24 | $23.76 | $24.00 | $22.84 | $23.67 | 4 775 514 |
| 2023-05-23 | $24.18 | $24.99 | $23.73 | $24.11 | 4 031 038 |
| 2023-05-22 | $23.36 | $24.67 | $23.47 | $24.37 | 4 254 072 |
| 2023-05-19 | $23.48 | $24.32 | $22.93 | $23.13 | 4 177 175 |
| 2023-05-18 | $23.08 | $23.43 | $22.17 | $22.96 | 3 481 703 |
| 2023-05-17 | $22.65 | $23.40 | $22.16 | $22.68 | 2 364 836 |
| 2023-05-16 | $23.50 | $23.73 | $22.35 | $22.42 | 4 245 163 |
| 2023-05-15 | $22.18 | $23.78 | $22.11 | $23.45 | 8 651 695 |
| 2023-05-12 | $20.21 | $22.78 | $20.15 | $21.97 | 14 729 124 |
| 2023-05-11 | $18.67 | $19.68 | $18.23 | $18.94 | 4 219 385 |
| 2023-05-10 | $18.13 | $19.61 | $17.73 | $18.65 | 8 353 615 |
| 2023-05-09 | $18.75 | $20.05 | $18.75 | $19.22 | 6 752 716 |
| 2023-05-08 | $18.30 | $19.14 | $18.11 | $18.66 | 2 758 566 |
| 2023-05-05 | $18.36 | $18.45 | $17.90 | $18.37 | 2 537 958 |
| 2023-05-04 | $18.30 | $18.42 | $17.51 | $17.69 | 3 129 720 |
| 2023-05-03 | $18.38 | $18.91 | $18.00 | $18.29 | 3 023 617 |
| 2023-05-02 | $19.59 | $19.59 | $18.14 | $18.38 | 5 735 866 |
| 2023-05-01 | $20.39 | $20.43 | $19.53 | $19.77 | 1 696 622 |
| 2023-04-28 | $20.06 | $20.48 | $19.56 | $20.45 | 2 010 103 |
| 2023-04-27 | $20.68 | $21.24 | $20.36 | $20.49 | 1 934 212 |
| 2023-04-26 | $20.50 | $20.80 | $19.61 | $20.30 | 3 793 627 |
| 2023-04-25 | $21.59 | $21.76 | $20.94 | $21.03 | 2 587 503 |
| 2023-04-24 | $20.95 | $21.92 | $20.30 | $21.90 | 2 853 058 |
| 2023-04-21 | $20.88 | $21.27 | $20.57 | $21.11 | 3 314 325 |
| 2023-04-20 | $20.35 | $21.09 | $20.21 | $20.97 | 2 157 779 |
| 2023-04-19 | $21.10 | $21.35 | $20.88 | $21.03 | 2 074 471 |
| 2023-04-18 | $21.98 | $22.32 | $21.25 | $21.46 | 2 602 764 |
| 2023-04-17 | $21.69 | $22.47 | $21.62 | $21.93 | 3 293 580 |
| 2023-04-14 | $22.10 | $22.10 | $20.99 | $21.39 | 2 237 288 |
| 2023-04-13 | $21.92 | $22.49 | $21.57 | $21.79 | 3 329 794 |
| 2023-04-12 | $21.89 | $22.38 | $21.12 | $21.55 | 3 393 024 |
| 2023-04-11 | $20.77 | $21.67 | $20.48 | $21.54 | 4 181 699 |
| 2023-04-10 | $19.51 | $20.27 | $19.40 | $20.21 | 2 114 367 |
| 2023-04-06 | $19.86 | $20.05 | $19.37 | $19.63 | 2 540 543 |
| 2023-04-05 | $20.19 | $20.49 | $19.39 | $19.90 | 3 532 048 |
| 2023-04-04 | $21.04 | $21.09 | $20.06 | $20.42 | 4 359 562 |
| 2023-04-03 | $21.90 | $22.21 | $20.68 | $21.03 | 4 226 438 |
| 2023-03-31 | $20.18 | $21.99 | $20.18 | $21.88 | 5 729 410 |
| 2023-03-30 | $20.16 | $21.34 | $20.02 | $20.18 | 8 720 818 |
| 2023-03-29 | $19.90 | $19.93 | $19.07 | $19.62 | 3 614 314 |
| 2023-03-28 | $19.87 | $19.96 | $19.36 | $19.62 | 5 046 562 |
| 2023-03-27 | $18.83 | $19.23 | $18.23 | $19.09 | 3 774 830 |
| 2023-03-24 | $19.45 | $19.70 | $18.32 | $18.47 | 6 152 058 |
| 2023-03-23 | $19.96 | $21.54 | $19.25 | $19.81 | 7 271 023 |
| 2023-03-22 | $19.05 | $20.45 | $18.52 | $19.62 | 7 966 872 |
| 2023-03-21 | $17.79 | $19.02 | $17.70 | $18.72 | 6 599 817 |
| 2023-03-20 | $17.01 | $17.83 | $16.45 | $17.23 | 6 340 539 |
| 2023-03-17 | $17.61 | $17.65 | $16.26 | $17.07 | 6 283 278 |
About Array Technologies, Inc.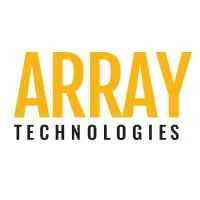 Array Technologies, Inc. manufactures and supplies solar tracking systems and related products in the United States and internationally. Its products include DuraTrack HZ v3, a single-axis solar tracking system; and SmarTrack, a machine learning software that is used to identify the optimal position for a solar array in real time to increase energy production. The company was founded in 1989 and is headquartered in Albuquerque, New Mexico.... ARRY Profile
Top Fintech Company
featured in The Global Fintech Index 2020 as the top Fintech company of the country.
Full report by