NASDAQ:FLEX
Flextronics International Ltd. Stock Price (Quote)
$25.91
(
1.73%
)
Friday, 26th May 2023
Range
Low Price
High Price
Comment
30 days
$19.44
$26.04
Friday, 26th May 2023 FLEX stock ended at $25.91. This is 1.73% more than the trading day before Thursday, 25th May 2023. During the day the stock fluctuated 2.54% from a day low at $25.39 to a day high of $26.04.
90 days
$19.44
$26.04
52 weeks
$13.63
$26.04
Historical Flextronics International Ltd. prices
| | | | | | |
| --- | --- | --- | --- | --- | --- |
| Date | Open | High | Low | Close | Volume |
| 2023-05-26 | $26.00 | $26.04 | $25.39 | $25.91 | 6 360 836 |
| 2023-05-25 | $24.80 | $25.56 | $24.70 | $25.47 | 6 883 137 |
| 2023-05-24 | $24.44 | $24.58 | $24.27 | $24.50 | 2 925 995 |
| 2023-05-23 | $24.38 | $25.14 | $24.38 | $24.57 | 5 233 694 |
| 2023-05-22 | $24.24 | $24.61 | $24.24 | $24.51 | 3 077 484 |
| 2023-05-19 | $24.38 | $24.43 | $23.96 | $24.30 | 3 947 623 |
| 2023-05-18 | $24.00 | $24.46 | $23.82 | $24.19 | 5 811 410 |
| 2023-05-17 | $23.56 | $24.47 | $23.43 | $23.94 | 5 161 950 |
| 2023-05-16 | $23.54 | $23.90 | $23.38 | $23.38 | 4 774 049 |
| 2023-05-15 | $23.61 | $23.81 | $23.41 | $23.60 | 6 403 133 |
| 2023-05-12 | $23.13 | $24.09 | $23.08 | $23.61 | 11 644 599 |
| 2023-05-11 | $21.68 | $23.12 | $21.59 | $23.00 | 15 470 068 |
| 2023-05-10 | $21.00 | $21.35 | $20.83 | $21.14 | 8 493 641 |
| 2023-05-09 | $20.69 | $21.13 | $20.69 | $20.92 | 5 707 137 |
| 2023-05-08 | $20.50 | $20.84 | $20.41 | $20.83 | 6 417 249 |
| 2023-05-05 | $20.48 | $20.83 | $20.38 | $20.50 | 4 399 141 |
| 2023-05-04 | $20.01 | $20.25 | $19.85 | $20.12 | 3 355 257 |
| 2023-05-03 | $20.42 | $20.62 | $20.11 | $20.12 | 3 906 707 |
| 2023-05-02 | $20.58 | $20.69 | $20.16 | $20.32 | 4 540 954 |
| 2023-05-01 | $20.53 | $21.06 | $20.53 | $20.70 | 3 527 457 |
| 2023-04-28 | $20.12 | $20.63 | $20.10 | $20.57 | 3 746 847 |
| 2023-04-27 | $19.84 | $20.19 | $19.44 | $20.18 | 5 804 698 |
| 2023-04-26 | $19.66 | $20.08 | $19.52 | $19.84 | 5 258 507 |
| 2023-04-25 | $20.35 | $20.42 | $19.64 | $19.68 | 4 983 597 |
| 2023-04-24 | $20.58 | $20.77 | $20.55 | $20.65 | 3 378 932 |
| 2023-04-21 | $20.76 | $20.79 | $20.40 | $20.63 | 3 340 975 |
| 2023-04-20 | $20.86 | $21.03 | $20.66 | $20.78 | 7 445 426 |
| 2023-04-19 | $21.57 | $21.60 | $21.02 | $21.15 | 4 150 444 |
| 2023-04-18 | $21.74 | $21.90 | $21.48 | $21.85 | 3 089 245 |
| 2023-04-17 | $21.52 | $21.83 | $21.52 | $21.61 | 2 428 887 |
| 2023-04-14 | $21.69 | $21.93 | $21.49 | $21.68 | 1 713 549 |
| 2023-04-13 | $21.60 | $21.94 | $21.26 | $21.76 | 1 869 264 |
| 2023-04-12 | $21.63 | $21.84 | $21.43 | $21.48 | 2 768 377 |
| 2023-04-11 | $21.70 | $21.82 | $21.40 | $21.44 | 2 273 118 |
| 2023-04-10 | $21.17 | $21.70 | $21.10 | $21.56 | 2 112 276 |
| 2023-04-06 | $21.53 | $21.64 | $21.31 | $21.35 | 2 270 398 |
| 2023-04-05 | $21.56 | $21.76 | $21.41 | $21.69 | 2 099 255 |
| 2023-04-04 | $22.62 | $22.62 | $21.62 | $21.76 | 3 488 730 |
| 2023-04-03 | $22.90 | $23.07 | $22.43 | $22.54 | 3 449 868 |
| 2023-03-31 | $22.28 | $23.03 | $22.28 | $23.01 | 3 942 205 |
| 2023-03-30 | $22.39 | $22.53 | $22.17 | $22.28 | 2 527 821 |
| 2023-03-29 | $21.74 | $22.17 | $21.66 | $22.14 | 3 388 612 |
| 2023-03-28 | $21.25 | $21.54 | $21.12 | $21.51 | 3 230 730 |
| 2023-03-27 | $21.19 | $21.57 | $21.12 | $21.28 | 2 411 364 |
| 2023-03-24 | $21.22 | $21.31 | $20.81 | $20.99 | 2 349 621 |
| 2023-03-23 | $21.53 | $22.05 | $21.04 | $21.46 | 3 589 819 |
| 2023-03-22 | $21.45 | $21.97 | $21.28 | $21.30 | 4 244 334 |
| 2023-03-21 | $21.32 | $21.76 | $21.32 | $21.56 | 3 594 195 |
| 2023-03-20 | $20.85 | $21.37 | $20.81 | $21.01 | 4 179 157 |
| 2023-03-17 | $21.04 | $21.05 | $20.37 | $20.73 | 6 171 649 |
About Flextronics International Ltd.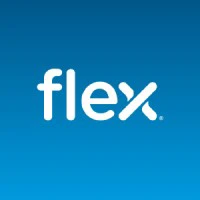 Flex Ltd. provides design, engineering, manufacturing, and supply chain services and solutions to original equipment manufacturers in Asia, the Americas, and Europe. It operates through three segments: Flex Agility Solutions (FAS), Flex Reliability Solutions (FRS), and Nextracker. The company provides cross-industry technologies, including human-machine interface, internet of things platforms, power, sensor fusion, and smart audio. It also offers... FLEX Profile
Top Fintech Company
featured in The Global Fintech Index 2020 as the top Fintech company of the country.
Full report by